Taipei Universiade: Bravo out of work after Games, may look for new job
With the conclusion of the Taipei Summer Universiade on Wednesday, the event's mascot, Bravo the bear, announced on Facebook that it was out of a job.
Bravo thanked its supporters over the past year and asked everyone to give a big "like" to the mascot team.
"After tonight [Wednesday], I, Bravo the bear, will be officially out of a job," it wrote, adding that perhaps after "hibernating" for a few days, it would report to the employment service office to start looking for a new job.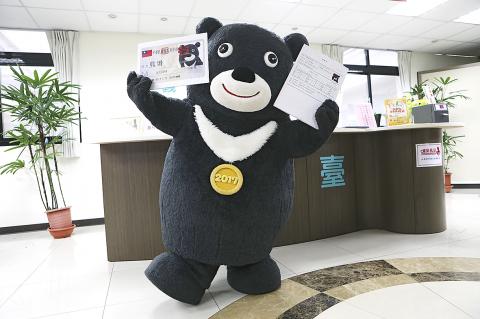 The Taipei Summer Universiade mascot Bravo the Bear is pictured yesterday.
Photo: Taipei Times
"The show's over and Bravo is now exiting the stage. Farewell, everyone. Good night, Taiwan," the post said.
Netizens' responses poured in soon after, calling on the Taipei City Government to keep the mascot on retainer.
Some netizens wrote that Taipei Mayor Ko Wen-je (柯文哲) early last year said that the city government would not let Bravo disappear after the Games' conclusion.
Taipei Department of Information and Tourism Commissioner Chien Yu-yen (簡余晏) said that Bravo would be given several days to recuperate, as it attended 50 events in one month.
Bravo will have two choices: retirement or becoming the official city mascot, Chien said.
However, city government spokesman Liu Yi-ting (劉奕霆) said that Bravo would have to "submit a CV" and list its qualifications for the city mascot position, adding that the final decision was up to Ko.
Meanwhile, the e-sports group was one step ahead of the city government, posting a response to Bravo's farewell, inviting it to "come play computer games with us!"
Bravo's Facebook page was updated on Thursday, showing a short video of the mascot demonstrating its new moves on the ice skating rink.
Comments will be moderated. Keep comments relevant to the article. Remarks containing abusive and obscene language, personal attacks of any kind or promotion will be removed and the user banned. Final decision will be at the discretion of the Taipei Times.