Asia Democracy Forum to highlight the environment
The Democratic Progressive Party's (DPP) second Asia Democracy Forum, to be held in Taipei this weekend, is to focus on environmental, energy and sustainability issues in Taiwan and Southeast Asia.
Nineteen non-governmental organizations from 10 countries are to attend the forum at National Taiwan University on Saturday and Sunday, DPP Deputy Secretary-General Cho Jung-tai (卓榮泰) said.
Former Academia Sinica president Lee Yuan-tseh (李遠哲), former vice president Annette Lu (呂秀蓮) and Taiwan Environmental Protection Union director Liou Gin-show (劉俊秀) and vice director Liou Chih-chien (劉志堅) are to address environmental problems in Taiwan and the world, Cho said.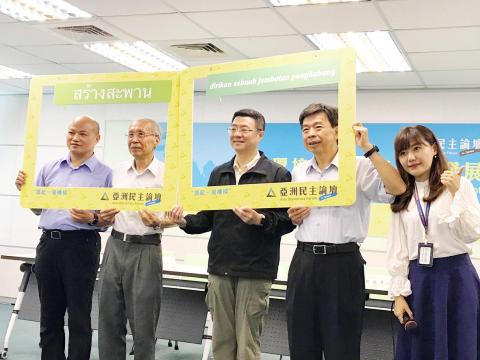 Democratic Progressive Party and Environmental Protection Union members promote the Asia Democracy Forum yesterday at a news conference in Taipei.
Photo: CNA
Representatives of environmental groups from Japan, South Korea, Malaysia, Vietnam, the Philippines, Indonesia, Thailand, Myanmar and Cambodia are to speak about sustainability challenges, pollution, climate change mitigation, energy transition and other environmental issues in their countries, Cho said.
The forum is aimed at boosting exchanges between Taiwan and other Asian countries, which is of pivotal importance to guiding environmental movements in those countries, much as Taiwanese environmentalists have drawn from European and US experiences to advance their efforts over the past three decades, said Shih Hsin-min (施信民), the founding chairman of the Taiwan Environmental Protection Union.
"Taiwan has rarely connected with Southeast Asian countries on environmental topics, except for nuclear power issues, and environmentalism should be an important aspect of Taiwan's cooperation with those countries, which is overwhelmingly centered on economic issues," Shih said.
Cho reaffirmed the DPP's energy transition objectives, including phasing out nuclear power by 2025 and boosting the share of energy from renewable sources from 4 percent in 2015 to 20 percent in 2025.
"The government will not give up the goal of a nuclear-free homeland by 2025, he said. "It insists on attaining this goal. Meanwhile, the government has to make sure an ample supply of power and water to strike a balance between environmental protection and development."
Comments will be moderated. Keep comments relevant to the article. Remarks containing abusive and obscene language, personal attacks of any kind or promotion will be removed and the user banned. Final decision will be at the discretion of the Taipei Times.