Winning drawing accompanies launch of Formosat-5
A drawing by junior-high school student Chu Chia-yin (朱嘉尹) yesterday rode a rocket into space when the SpaceX Falcon 9 delivered Taiwan's Formosat-5 satellite into orbit.
The drawing, which was selected two years ago in a competition for elementary-school students, depicts a Formosan blue magpie wearing a space suit against a background of rice fields, orchids and the Taipei 101 skyscraper.
It was carried on the Falcon 9 rocket, which launched from Vandenberg Air Force Base in California, taking Taiwan's first domestically built and developed remote sensing satellite into space.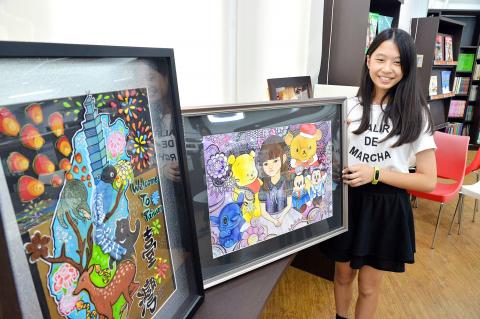 Junior-high school student Chu Chia-yin on Thursday displays some of her paintings. One of her paintings were sent into space yesterday onboard SpaceX's Falcon 9, which was carrying Taiwan's Formosat-5 satellite.
Photo: CNA
Before leaving for the US with her family to witness the launch, Chu told reporters that the flying magpie symbolized the nation's rising space-related dreams.
A sixth-grader at the time of the children's art competition, Chu took two weeks to figure out the composition of the drawing and an entire summer to complete it.
Under the terms of the competition, the winning entry would be carried aboard the Falcon 9 rocket when it took Formosat-5 into space.
"When my father received the notice [that I had won], he thought it was a scam," said Chu, now a student at the Taipei Municipal Dunhua Junior High School.
She said she thought the launch would take place soon after the competition in October 2015, but she had to wait almost two years because of a series of delays, which included an explosion of the Falcon 9 rocket while it was being fueled for a test fire in September last year.
With everything looking ready for the launch, Chu's family decided to take her to California to witness it, as well as visit Disneyland, Universal Studios and the Grand Canyon.
The opportunity to see the launch of Formosat-5 is "an experience that money cannot buy," Chu said.
It took six years and NT$5.659 billion (US$187.07 million) to get Formosat-5 ready for the launch at 2:50am yesterday, which Public Television Service broadcast live.
The satellite is to collect data that are to be used for natural disaster prevention, national security, technological advancements and other academic and civilian purposes.
Comments will be moderated. Keep comments relevant to the article. Remarks containing abusive and obscene language, personal attacks of any kind or promotion will be removed and the user banned. Final decision will be at the discretion of the Taipei Times.