Evaluation system for judges set up
TRANSPARENCY: A government-run assessment system giving the judiciary high marks lacks credibility, prompting a watchdog to establish a public system
The Judicial Reform Foundation on Thursday said it is setting up a public online evaluation system for judges to enhance transparency in the judicial system.
The system is to be composed of three groups: lawyers, parties in a lawsuit and court observers, foundation executive director Kao Jung-chih (高榮志) said.
The foundation has invited select members of the Taipei Bar Association to assist in testing the system's stability and the evaluation questionnaire, Kao said.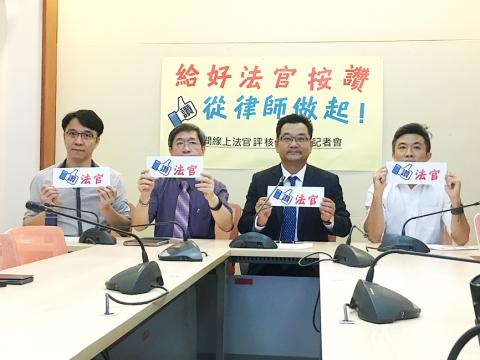 Judicial Reform Foundation chairman Lin Yung-sung, second left, and Taipei Bar Association president Hsueh Chin-feng, second right, and two others hold up signs with the words "judge" and "like" at a news conference at the legislature in Taipei on Thursday.
Photo: Cheng Hung-ta, Taipei Times
The lawyers will also help decide what method should be used to gather information, run statistics and how the system is to be opened to the public, he added.
The passage of the Judges' Act (法官法) in 2011 mandated the creation of a system to evaluate judges and a mechanism to remove unfit judges, foundation chairman Lin Yung-sung (林永頌) said.
An initial internal assessment system set up by the Ministry of Justice saw at least 90 percent of respondents describe the judiciary as "great," and only 3 percent said changes are needed.
Lin said he does not believe public perception of the judiciary is as low as it is among legal scholars and the media, but neither does he believe the judiciary enjoys as great a reputation as it thinks it does.
The judiciary's assessment system is not transparent and the results are not credible, which is why a public assessment system is needed, Lin said.
Assessment of judges' performance should not be limited to internal members and the results should be made public, he said.
Taipei Bar Association president Hsueh Chin-feng (薛欽峰) said the group has more than 7,000 members, or about two-thirds of all lawyers in the nation.
The association's members do not come only from the Greater Taipei area, but it has members working in every court in the nation, Hsueh said, adding that he was confident the group has enough members to help the foundation test its system.
While the quality of judges has improved considerably, there is still room for change to reduce the number of unsuitable judges to the bare minimum, he said.
With the aid of the foundation's assessment system, the association hopes to turn the spotlight on two types of judges — those who do exceptional work and those who are unfit for their post, Hsueh said.
Comments will be moderated. Keep comments relevant to the article. Remarks containing abusive and obscene language, personal attacks of any kind or promotion will be removed and the user banned. Final decision will be at the discretion of the Taipei Times.