Taiwan News Quick Take
SOCIETY
Office supplies rare stamps
Rare commemorative stamps and postmarks sold at the Pratas Islands (Dongsha Islands, 東沙群島) post office are highly sought after by philatelists in Taiwan. The islands host a patrol outpost with one post office, which serves 200 coast guard officers stationed there. The office's services are limited to mail and the sale of stamps and souvenirs. The office is staffed by two volunteers, who handle about 70 pieces of mail per month, the Coast Guard Administration's Dongsha Command said. Part of the volunteers' work involves selling stamps and postmarks to collectors on Taiwan proper, the command said. The office was established in 1966 when a mail service was set up by the Marine Corps.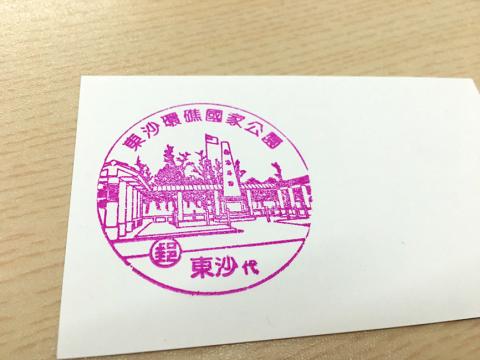 Photo: CNA
CRIME
Man caught with army gear
Vietnamese authorities on Sunday arrested a 31-year-old Taiwanese man on suspicion of smuggling military equipment. Local news Web site VnExpress.net reported that authorities at Ho Chi Minh City's Tan Son Nhat International Airport found abnormalities with the man's luggage bound for Kaohsiung. Authorities found 79 pistol grips, two military communication devices, gas masks, shells for a M79 grenade launcher and cartridges for AR15 rifles, as well as old NATO military outfits and backpacks. The import and export of the items is prohibited, Vietnamese officials said. The authorities did not disclose the man's name, the report said.
CRIME
Death urged for driver
The Tainan District Prosecutors' Office yesterday called for the death penalty for a man who last month allegedly ran over his former wife and her lawyer in a car. On July 17, Hung Tang-hsing (洪當興), 44, allegedly ran over his former wife, Lee Yi-hui (李怡慧), and her divorce lawyer, Huang Cheng-hsiung (黃政雄), in front of a courthouse in Tainan. Huang was rushed to hospital, but was pronounced dead, while Lee died on July 19. Hung was charged with manslaughter. In the indictment issued by prosecutors yesterday, they recommended a death sentence, saying Hung showed no remorse for his crime. The Taiwan Bar Association and its local chapters, which represent most of nation's lawyers, had at the time of the incident issued a joint statement condemning the violence and urging the judiciary to hand Hung a heavy sentence to protect all legal practitioners.
SOCIETY
Officer to be discharged
A military police officer who was attacked outside the Presidential Office Building last week is due to be released from hospital, Presidential Office spokesman Alex Huang (黃重諺) said yesterday. His doctors are to conduct one final check before releasing him, possibly in the next day or two, Huang said. Last week, the assailant, identified only by his surname, Lu (呂), attacked the officer stationed outside the west wing of the building with a Samurai sword. The officer was rushed to National Taiwan University Hospital for treatment. He was treated for a 10cm wound on the right side of his neck, earlier reports said. Lu has been turned over to the Taipei District Prosecutors' Office for further investigation.
ENTERTAINMENT
River festival Saturday
This year's Taipei Sounds from the River Festival is gearing up for the Dadaocheng (大稻埕) Lovers' Day (七夕情人節) celebration, with a list of live performances from top artists. The special, organized by the Taipei Department of Information and Tourism, is to take place on Saturday and is to feature Japanese singer Kousuke Atari, Malaysian singer-songwriter Joyce Chu (四葉草) and Taiwanese reggae band Matzka. In addition to live music, there will be a 10-minute fireworks show at 8:20pm, with 15,000 fireworks forming the shape of a bottle with the word "LOVE" inside. Officials urged attendees to use public transport as a large turnout is expected
DIPLOMACY
No talks after Panama split
Taiwan and Panama have not discussed establishing official representative offices since the severing of diplomatic relations in June, a Taiwanese official said on Thursday. Following the closure of the two nation's respective embassies in Taipei and Panama City on July 12, no official channels of communication have been maintained, said Diego Chou (周麟), head of the Ministry of Foreign Affairs' Department of Latin American and Caribbean Affairs. Although Panama has expressed an interest in maintaining substantial ties and exchanging business offices with Taiwan, it remains to be seen if Beijing will pressure Panama to change its mind, Chou said. "We don't think now is an appropriate time to discuss this matter," he said. Asked if the Taiwan-Panama free-trade agreement is still valid after the ending of official ties, Chou said that the government believes it remains valid, as Panama has not formally expressed a desire to terminate the pact.
Comments will be moderated. Keep comments relevant to the article. Remarks containing abusive and obscene language, personal attacks of any kind or promotion will be removed and the user banned. Final decision will be at the discretion of the Taipei Times.