Anti-aircraft cannon firing drill conducted in Pingtung
Troops from the Air Defense Artillery Command's 303rd battalion on Thursday conducted a drill simulating air-to-ground combat in Pingtung County to test their ability to handle aerial attacks.
The drill, during which a Oerlikon GDF-006 35mm anti-aircraft cannon firing drill was conducted at night, took place at the Air Defense Artillery Training Center in Fangshan Township (枋山), a location for ground-to-air and ground-to-sea live fire practice.
The maximum firing range of the GDF-006 is 11km and the maximum effective distance is about 4km. The rate of fire is 1,100 rounds per minute, according to data provided by the Republic of China Air Force.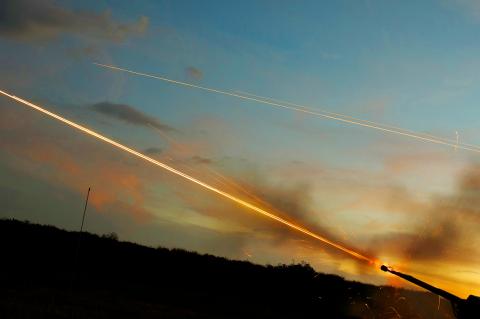 An Oerlikon GDF-006 35mm anti-aircraft cannon firing drill is conducted at the Air Defense Artillery Training Center in Pingtung County's Fangshan Township in a photograph provided by the Military News Agency.
Photo: CNA
The GDF-006 with night vision is a towed anti-aircraft gun for short-range air defense against crewed aircraft including fighter jets, bombers and helicopters, as well as uncrewed aerial targets, in particular drones, cruise missiles, dispensers, guided missiles and bombs.
The GDF-006 is controlled by the Skyguard radar system, an all-weather air defense system for the control of aircraft at altitudes of up to 3,000m. The system conducts air surveillance, target acquisition and calculates derivative-action values.
To counter China's advanced missile threat, the command is set to merge with other defense systems by the end of the year and is to become a top military unit.
The reorganization is meant to counter China's deployment of more than 1,400 missiles against Taiwan and are in response to a doctrinal shift in the nation's defense strategy from "effective deterrence" to "multiple deterrence."
Comments will be moderated. Keep comments relevant to the article. Remarks containing abusive and obscene language, personal attacks of any kind or promotion will be removed and the user banned. Final decision will be at the discretion of the Taipei Times.