Taoyuan slammed for pollution
HANDS ON: Legislator Lin Shu-fen took matters in her own hands and did research in the affected area, taking samples that were found to contain high levels of copper
Democratic Progressive Party Legislator Lin Shu-fen (林淑芬) yesterday criticized the Taoyuan City Government's leniency in dealing with the pollution from processing firm Yu Hung Technology (宇鴻科技) in nearby farms, which cover 122 hectares downstream of the now-defunct Shenmai Pond (滲眉埤).
The Council of Agriculture on Wednesday rejected a report by Chinese-language Next Magazine that said rice is once again being grown on farmland that was once irrigated by the former pond, an area where farming is prohibited.
The area spans about 97 hectares and could have provided 20 tonnes of contaminated rice, the report said.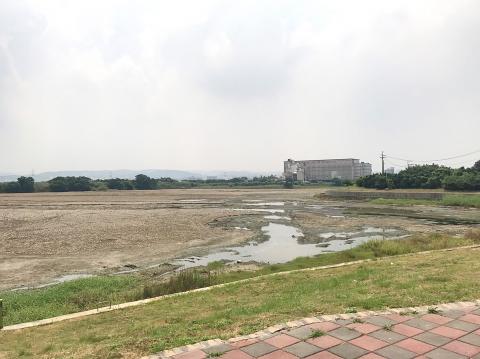 Shenmai Pond in Taoyuan, which has fallen into disuse after being polluted by a nearby factory, is pictured on Wednesday.
Photo: Hsieh Wu-hsiung, Taipei Times
The council said that the farms cited by the magazine had not been irrigated with water from the former pond, but by water from a different source, adding that land on which farming is banned is checked every two months.
However, a survey by Lin and environmentalists that day found that the area polluted by Yu Hung likely includes not only land downstream of the pond, but upstream as well.
Video filmed by the lawmaker shows a 3-hectare rice paddy about 10m from Yu Hung's facility, with rice stalks apparently ready to be harvested.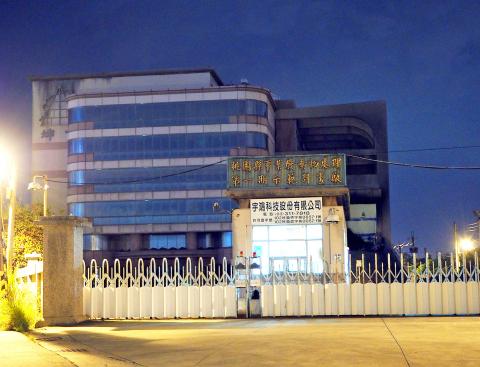 Yu Hung Technology's factory is pictured in Taoyuan on Wednesday.
Photo: Chen Yun, Taipei Times
Measurements conducted by Tainan Community College researcher Chao Jui-kuang (晁瑞光) using an X-ray fluorescence spectrometer showed copper concentrations in the field of 2,313 parts per million (ppm) — 38.5 times the Environmental Protection Administration's (EPA) safe limit of 60ppm.
The Yu Hung facility — operations at which Taoyuan Mayor Cheng Wen-tsan (鄭文燦) in June 2015 ordered suspended — remains in operation, with several fans and forklifts seen in use inside, Lin said, adding that a rancid smell of industrial waste was emanating from the building.
"Unpolluted farmland is the first line of defense to ensure food safety. We feel powerless against the Taoyuan City Government's inaction," Lin said.
It has been almost three years since Cheng, who took part in a demonstration against Yu Hung during his mayoral campaign, took office and designated the pond a pollution remediation site, but the municipal government has not pressed Yu Hung to clear the pollution it caused, which is "heartbreaking," she said.
She called on President Tsai Ing-wen's (蔡英文) administration to allocate funds from the Forward-looking Infrastructure Development Program to build irrigation canals separate from factory wastewater outlet pipes, which are often mixed together, causing contamination to farms.
Veteran environmentalist Lin Chang-mao (林長茂) lambasted the city government for allowing cultivation on land allegedly polluted by Yu Hung, saying that it could not even determine the scope of the contaminated area.
As Yu Hung has been prosecuted for the pollution, the city government should have sequestered the firm's assets to prevent it from transferring them elsewhere and made it pay compensation to affected farmers, he said.
A fire broke out in Yu Hung's offices after its operations were suspended, which he suspected was the firm illegally burning potentially hazardous waste, Lin Chang-mao said, adding that prosecutors should launch an investigation to determine whether the company had secretly resumed operations.
EPA Soil and Groundwater Remediation Fund Executive Secretary Chen Shih-wei (陳世偉) said that a Taoyuan City Government survey of the area polluted by Yu Hung estimated that NT$970 million (US$32.1 million) would be needed to clear contaminants from the 122 hectares on behalf of Yu Hung in accordance with the Soil and Groundwater Pollution Remediation Act (土壤及地下水汙染整治法).
The city government later requested a subsidy of just NT$14 million from the EPA, which is to be used to remove contaminants in 12.19 hectares of soil around the pond, Chen Shih-wei said, adding that the municipal government submitted a pollution remediation plan about a week ago.
He said that he told the Taoyuan City Government that it could only use the subsidy on the condition that the money is later repaid by Yu Hung.
Comments will be moderated. Keep comments relevant to the article. Remarks containing abusive and obscene language, personal attacks of any kind or promotion will be removed and the user banned. Final decision will be at the discretion of the Taipei Times.