KMT mulling Chiang for Taipei race
CRITICIZED: Ko Wen-je has been mayor for two years and has no major achievement to show for it, with the exception of demolishing a ramp, Chiang Wan-an said
Chinese Nationalist Party (KMT) Legislator Chiang Wan-an (蔣萬安), son of former KMT vice chairman John Chiang (蔣孝嚴) and grandson of former president Chiang Ching-kuo (蔣經國), is considered a possible candidate to run for Taipei mayor next year, party sources said.
Despite saying he has not made any plans to run for Taipei mayor, Chiang Wan-an, 38, spoke about his vision for the city and criticized independent Taipei Mayor Ko Wen-je's (柯文哲) administration.
"Ko has been mayor for two years and has no major achievement to show for it, with the exception of demolishing a ramp connecting to Zhongxiao Bridge (忠孝橋) and reducing city budgets," Chiang Wan-an said in an interview with the Chinese-language Liberty Times (the Taipei Times' sister paper).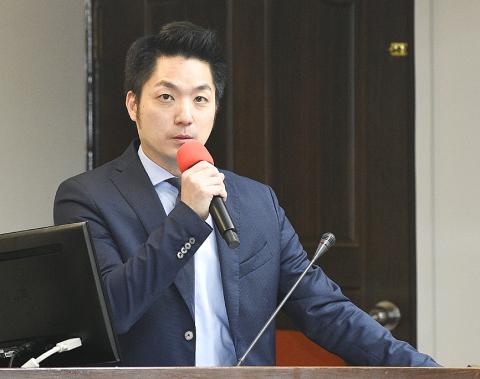 Chinese Nationalist Party (KMT) Legislator Chiang Wan-an speaks at the Legislative Yuan in Taipei on May 31.
Photo: Chen Chih-chu, Taipei Times
Many Taipei residents and borough wardens said Ko's administration should be constructing facilities for the city instead of wasting its energy on the Taipei Dome project, Chiang Wan-an said.
Residents of Zhongshan District (中山) and the northern part of Songshan District (松山), whom he represents at the legislature, are split on the proposed relocation of Taipei International Airport (Songshan airport), he said.
"Moving Songshan airport is not something to be taken lightly and should be considered from the perspective of national needs," he said.
The evaluation for moving Songshan airport should wait until the completion of a new runway and Terminal 3 at Taiwan Taoyuan International Airport, Chiang Wan-an said.
The city also needs to think carefully about what to do with the vacated land, he said.
Chiang Wan-an said he has close relations with the city's councilors, wardens and residents, adding that many young voters told him that they are concerned about low wages and bleak employment prospects in the city.
Chiang Wan-an said he is a father and works with the If Kids Theater Company (如果兒童劇團) to entertain children on his days off.
The theater puts him in touch with Taipei parents and many of them say that the city does not have enough public childcare facilities, he said.
Taipei should lead the nation in innovation and high-tech businesses by becoming a "digital city," which would boost employment and start-ups, he added.
In response to questions about his views on his grandfather's policies, Chiang Wan-an said: "Chiang Ching-kuo's attitude of being close to the public is worthy of emulation. I am technologically inclined and identify with young people in that regard. I use online media to promote policies and hold the government to account. My age group is close to younger voters. I have worked many years in Silicone Valley. My experiences are those of a modern society and my team members are young people. I do not try to consciously imitate my grandfather."
When asked whether he would run for Taipei mayor for the KMT, he said: "I have not given it thought and my attention is on the legislature. I have not made plans for participating in that election."
Chiang Wan-an said the KMT has a good chance of returning to power in Taipei because the city's voter base is favorable to the pan-blue camp.
"Ko's victory was a result of capturing centrist voters, but he is losing them quickly. As long as the KMT nominates a candidate through a fair process that can unite the party behind the nominee, it stands an excellent chance of electing the mayor of the capital city," he said.
Comments will be moderated. Keep comments relevant to the article. Remarks containing abusive and obscene language, personal attacks of any kind or promotion will be removed and the user banned. Final decision will be at the discretion of the Taipei Times.