Establish Liu Xiaobo day, Ebadi says
PROGRESSIVE: Saying that Iranian laws tolerate discrimination against women, the Nobel Peace Prize winner praised Taiwan's development in women's rights
Taiwan should continue to protect its freedom of expression while commemorating late Nobel Peace Prize-winning Chinese dissident Liu Xiaobo (劉曉波) with a memorial day to support democracy and human rights, Iranian Nobel Peace Prize winner Shirin Ebadi said yesterday.
Democracy is thriving in Taiwan, with a high level of freedom of speech and human rights protection, but China has "killed" one of its most respected dissidents, Ebadi said during a meeting with lawmakers and human rights advocates in the legislature yesterday.
"In my opinion, China is a killer, a murderer" for ignoring the medical needs of cancer-stricken Liu, which led to his death on Thursday, Ebadi said.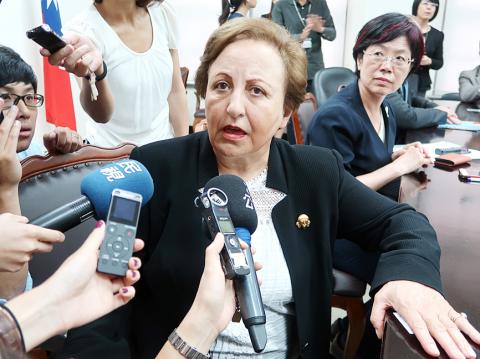 Iranian Nobel Peace Prize winner Shirin Ebadi talks to reporters during a meeting with lawmakers and human rights advocates yesterday at the Legislative Yuan in Taipei.
Photo: Lu Yi-hsuan, Taipei Times
There are many political prisoners in Iran and other non-democratic nations who suffer the same fate, Ebadi said, calling on Taiwan to remember Liu's death with a memorial day and commemorative ceremonies to honor his struggle against authoritarianism.
Ebadi said that in an earlier meeting yesterday with President Tsai Ing-wen (蔡英文), she also asked Tsai to commemorate Liu's death to remember his fight for democracy.
Ebadi said she saw people protesting on the streets of Taipei in support of China, which suggests that Taiwan has a high degree of freedom of expression.
"People are free to say what they want to and stage protests as they want. That is why I believe the freedom of speech is the first step in democracy. Do not allow this to be harmed," she said.
Saying that Iranian laws tolerate discrimination against women, Ebadi praised Taiwan's development in women's rights.
"Thirty-eight percent of the legislators are women in Taiwan. It is very good and I wish it could go up to 50 percent," she said.
Members of the international press freedom group Reporters Without Borders (RSF) were also present at the meeting.
RSF secretary-general Christophe Deloire said the group decided to set up its first Asia office in Taiwan as the nation has the highest level of press freedom in the region and a boisterous media landscape.
There are indications that media freedom in the US, Europe and Asia is worsening, but Taiwan has set a good example of protecting press freedom, Deloire said.
He emphasized the importance of media freedom especially as Beijing continues to suppress the media, which would have a negative affect on regional development, Deloire said.
The freedom of the press in Taiwan has to be augmented by the decriminalization of defamation and increased resistance against media manipulation, he said.
Defamation is punishable by up to two years in prison, which Deloire said could be used to muzzle the media.
"There should be [civil] punishment for defamation, but it is not legitimate that people can go to jail for this," he said.
The RSF's Taipei branch would begin operations by the end of this year and promote and defend media independence, he said.
Comments will be moderated. Keep comments relevant to the article. Remarks containing abusive and obscene language, personal attacks of any kind or promotion will be removed and the user banned. Final decision will be at the discretion of the Taipei Times.