Hot-air balloons fly over Taitung for sixth annual festival
FLYING HIGH: Amis elders prayed for good fortune at the launch of the festival that this year is to cover themes of alliance, the environment and carnival
Thousands of people yesterday attended the launch of the annual Taitung hot-air balloon festival in Luye Township's (鹿野) paragliding area.
In its sixth year, the festival opened with 20 ascending hot-air balloons, as Amis elders prayed for good fortune for the event, which is to run until Aug. 6.
The Taitung County Government said the festival would feature 35 hot-air balloons from all over the world, a record number of participants.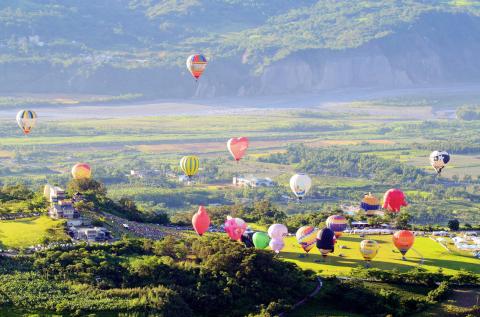 Fifteen hot air balloons take to the skies above the fields of Taitung County's Luye Township yesterday for the annual Taiwan Balloon Festival.
Photo: Wang Hsiu-ting, Taitung County
The balloons are to be displayed according to three themes:
"Happy alliance," balloons yesterday launched the festival and are to be showcased until July 12. The balloons have been designed in the image of pop-culture characters, including Yoda and Darth Vader from the Star Wars series of movies.
"The heart of the ocean," is to feature balloons depicting sea creatures, such as a sea horse and an octopus, from July 13 to 24.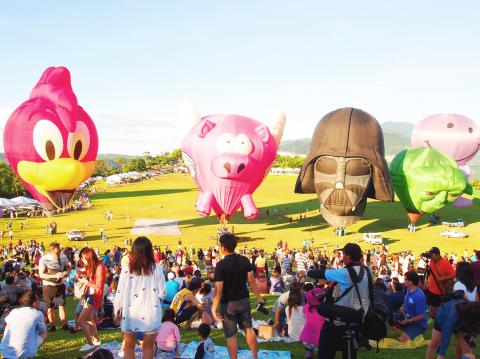 Five hot air balloons remain on the ground as 15 take to the skies yesterday for the annual Taiwan Balloon Festival in Luye Township, Taitung County.
Photo: Wang Hsiu-ting, Taitung County
"Samba carnival" is to run from July 25 to Aug. 6, with balloons mostly from Brazil.
The festival is also to offer wedding photography, as well as a competition in which people make an origami airplane and compete against other designers for distance flown, the county government said.
Comments will be moderated. Keep comments relevant to the article. Remarks containing abusive and obscene language, personal attacks of any kind or promotion will be removed and the user banned. Final decision will be at the discretion of the Taipei Times.