Four lighthouses focus of bike tours
CHALLENGES: The tours vary in distance, with routes ranging from 10km up to 180km, or for real hardcore cyclists, a 1,000km-plus ride around Taiwan to all four
Cyclists seeking new adventures might consider joining the "Furtherest" lighthouse cycling tours being offered under the auspices of the Taiwan Cycling Festival, which begins later this month.
Taiwan has 36 lighthouses, and they are unique sights along the coast and are generally surrounded by the sea and mountains, the Tourism Bureau said.
Four lighthouses are included in the tour program: San Diego Lighthouse (三貂角燈塔), Kuoshengkan Lighthouse (國聖港燈塔), Oluanpi Lighthouse (鵝鑾鼻燈塔) and Fugueijiao Lighthouse (富貴角燈塔), which are respectively, the nation's easternmost, westernmost, southernmost and northernmost lighthouses.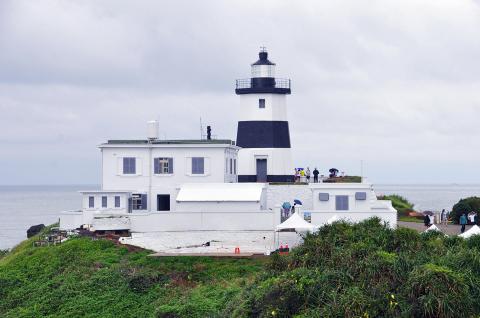 Fugueijiao Lighthouse in New Taipei City's Shimen District is pictured on Aug. 29, 2015.
Photo: Guo Yen-hui, Taipei Times
Three are in national scenic areas and the fourth is in a national park.
The tours are being offered at five levels, offering differing challenges for beginners, experienced cyclists and those traveling with families, and with two basic route lengths — 10km or 20km to 30km.
Participants can choose a short tour of one of the lighthouses or bicyclists seeking a bigger challenge could ride between lighthouses, such as the route between San Diego and Fugueijiao in the north, which are about 90km apart, or between Kuoshengkan and Oluanpi in the south, which are about 180km apart.
The most challenging tour would be cycling to all four lighthouses, which would add up to more than 1,000km, or taking an easier option of traveling to the four via a combination of railway trips and bicycle rides.
People joining lighthouse cycling tours will each receive a "passport" containing coupons they can use to shop at each lighthouse, and space to collect stamp seals at each lighthouse, the bureau said.
The riding tour between the San Diego and Fugueijiao lighthouses is scheduled for Saturday, a tour near the San Diego Lighthouse is set for July 15, the Oluanpi Lighthouse on Sept. 2, the Kuoshengkan Lighthouse on Sept. 16 and the Fugueijiao Lighthouse on Oct. 28.
A tour between the Kuoshengkan and Oluanpi lighthouses is scheduled for Sept. 16.
For more details on the tours or to register for one of them, the bureau has set up a Web site: lightuptw.cyclist.org.tw.
Comments will be moderated. Keep comments relevant to the article. Remarks containing abusive and obscene language, personal attacks of any kind or promotion will be removed and the user banned. Final decision will be at the discretion of the Taipei Times.