US legislators question arms sale delay
CHINESE OBSTRUCTION: While maintaining close ties with China is important, Taiwan should not become a bargaining chip in US-China relations, a US representative said
Several US lawmakers on Thursday expressed concern over China's redoubled efforts to isolate Taiwan and the US government's indecision on arms sales to Taiwan.
In a hearing on Taiwan-US ties, the US House of Representatives' Committee on Foreign Affairs Chairman Ed Royce said it is more important than ever to reassure Taipei of Washington's commitment to the relationship, at a time when Taiwan is facing new challenges as a result of changes in cross-strait and global dynamics.
Royce cited as examples Panama's decision to break off decades of diplomatic relations with Taiwan because of inducements from Beijing, and Taiwan's exclusion from this year's World Health Assembly due to Chinese obstruction.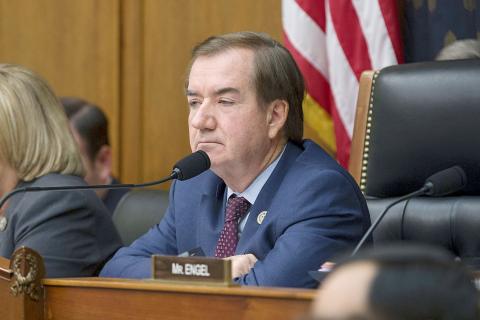 This is a file photo of the US House of Representatives' Committee on Foreign Affairs Chairman Ed Royce. Ed Royce said that it is more important than ever to reassure Taipei of Washington's commitment to the relationship at Thursday's hearing on Taiwan-US ties.
Photo: EPA
Delays by successive US administrations on arms sales notifications for Taiwan "have needlessly dragged out the arms sales process," he said.
"I hope to see regular notifications in the future and look forward to the announcement of new sales this year," Royce said.
The administration of former US president Barack Obama reportedly planned to approve an arms sales package worth more than US$1 billion to Taiwan late last year, but did not do so.
Contrary to expectations that the administration of US President Donald Trump would move the package forward quickly, the deal has been delayed to avoid angering China, as Washington is seeking Beijing's help in dealing with North Korea, US media reports have said.
At Thursday's hearing, US Representative Brad Sherman said that although maintaining ties with China is important to the US and it needs Beijing's help to solve certain problems, Taiwan should not become a bargaining chip in US-China relations.
US Representative Ted Yoho, chairman of the Subcommittee on Asia and the Pacific, said that since 2008, arms sales have been delayed so that they can be bundled together and their timing can be manipulated.
The US has not completed an arms sale to Taiwan since 2015, despite China's increasing global military ambitions, Yoho said.
"The arms sales process has become a political calculation designed to minimize friction with the PRC," he said, referring to the People's Republic of China.
"Not only does this concede to Beijing a degree of influence over our arms sales process, it seems to contravene [former US] president [Ronald] Reagan's assurance that the PRC would not be consulted on arms sales to Taiwan," he said.
Saying that the geopolitical reality that held when the US established its "one China" policy has changed, Yoho proposed that Washington sign a fourth communique with Beijing to spell out clearly what the US would do to contain China's clout.
American Enterprise Institute Asian Studies director Dan Blumenthal disagreed on the need for a fourth communique.
He said that China should abide by the three existing communiques and that the US has its own "one China" policy to implement.
He urged the Trump administration to include Taiwan in its Asia-Pacific strategy, particularly on the South China Sea issue.
On the question of whether Taiwan will be able to acquire F-35 jets from the US, Blumenthal said a key issue is whether Taiwan can afford the aircraft's exorbitant costs, adding that many other options are available for US-Taiwan security cooperation.
Comments will be moderated. Keep comments relevant to the article. Remarks containing abusive and obscene language, personal attacks of any kind or promotion will be removed and the user banned. Final decision will be at the discretion of the Taipei Times.