Single-student class graduates
'DEEP BOND': Chen Hsin-hung said he often felt lonely and was surprised to find out that he would have more than 20 classmates in Nanhua Junior High School
The only sixth-year student at Tainan's Yushan Elementary School on Monday took home all 13 gifts and awards for his graduating class of one after putting on a talent show at the graduation ceremony.
Chen Hsin-hung (諶信宏) is from the Aboriginal rural settlement of Maopu (茅埔), one of the communities served by the school in Nanhua District (南化).
He was the only student in nearly every class he attended over the past six years, Chen said, adding that others frequently joked he was home-schooled away from home and he often felt lonely.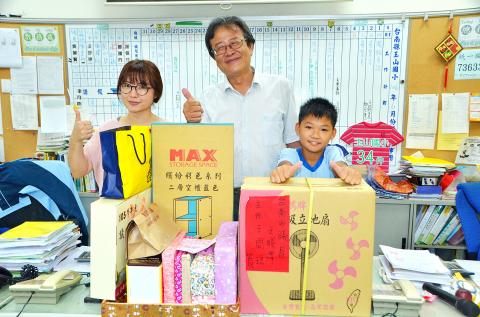 From left, Yushan Elementary School teacher Liang Shu-ting, principal Hung Wen-cheng and student Chen Hsin-hung pose with graduation gifts prepared for Chen prior to his graduation ceremony at the school in Tainan's Nanhua District on Monday.
Photo: Wu Chun-feng, Taipei Times
At the enrollment event at Nanhua Junior High School, he was surprised to find that he is to have more than 20 classmates, Chen said.
"I am very happy about this and it makes me a lot less sad about graduating and leaving this school," the graduate said.
Chen put on a show for his 16 junior schoolmates and the children in the attached kindergarten.
He played ocarina and ukulele duets, rode a unicycle and gave a speech as valedictorian as principal Hung Wen-cheng (洪文正) shouted encouragements.
Awards and prizes from local politicians and notable people were presented to Chen, including from the mayor, the city council spokesperson, the district administrator, the borough warden, the parents' association and the local agricultural cooperative.
Chen gave cards to his teachers, saying that while leaving makes him sad, he also looks forward to having lots of friends in junior-high school.
The graduating student has a sunny, upbeat and optimistic disposition, instructor Liang Shu-ting (梁舒婷) told reporters.
"Chen is the first student who graduated under my instruction and I have developed a deep bond with him over the past two years. I am sad to see him leave," she added.
Comments will be moderated. Keep comments relevant to the article. Remarks containing abusive and obscene language, personal attacks of any kind or promotion will be removed and the user banned. Final decision will be at the discretion of the Taipei Times.