Tourists urged to stop disturbing turtles
Pingtung County-based scuba divers are urging tourists not to interfere with sea turtles in waters near Siaoliouciou Island (小琉球), after video clips emerged showing visitors disturbing them.
There are 163 turtles living near Siaoliouciou and almost every group of divers or snorkelers gets to see one, professionals in the dive tourism industry said.
The increase in the number of turtles is good for business and an encouraging sign for the local environment, they said.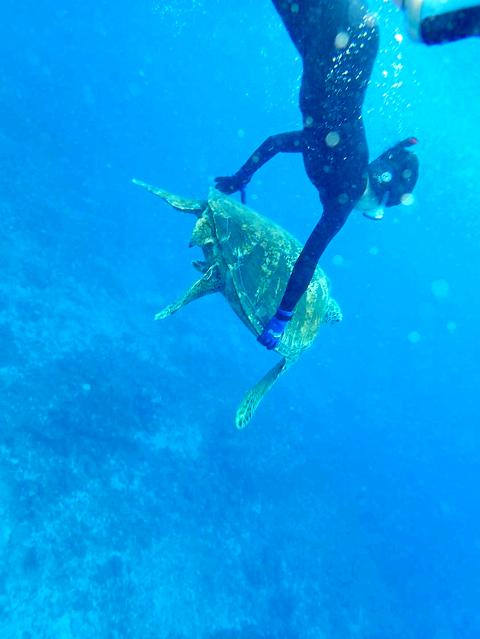 A diver handles a sea turtle in an undated photograph taken in waters off Siaoliouciou Island.
Photo: courtesy of a local diving company
However, they said they are aware of video clips circulating on social media that show tourists toying with turtles, adding that they have also witnessed such inappropriate activity firsthand.
"Time and again, we have told tourists to leave the turtles alone," a diver nicknamed Xiao Jin (小金) said.
He said that in the past few days he saw a snorkeler grab a turtle by its shell and try to swim along behind it.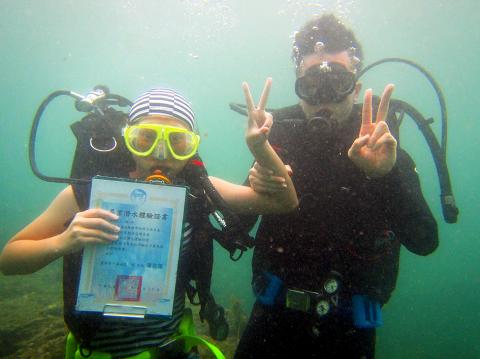 A Jhonghua Elementary School student receives their graduation certificate at a ceremony off the coast of Keelung on Monday.
Photo: courtesy of Chen Chih-hung
He gestured to the tourist to indicate that she should stop what she was doing immediately, but he was ignored, he said.
The woman did not appear to be part of a tour group, he said.
It is the policy of most dive tour operators to tell tourists that touching the turtles is against the law, sources in the industry said.
Turtles can become distressed if they are touched, and if they are chased when attempting to flee, they could abandon the area permanently, the sources said.
The Pingtung County Department of Agriculture said people who deliberately touch, disturb, catch or endanger sea turtles are liable to imprisonment for up to one year, commutable to a fine of NT$60,000 to NT$300,000.
In related news, students from Keelung's Jhonghua Elementary School on Monday participated in an annual underwater graduation event that is now in its eighth year.
The event's theme is ocean conservation and the students first spend time cleaning up any underwater trash they find and are then awarded their diplomas, school principal Pan Chih-huang (潘志煌) said.
Although the students are not expected to remove much waste, the event has significant educational value and it will be a good memory for them, Pan said.
The 13 young divers were led by dean of students, Chen Chih-hung (陳志宏), and the head teacher of the graduating class, Hsiao Shu-fan (蕭書凡).
A student surnamed Chen (陳) said he had been anxiously awaiting the event and was afraid that bad weather would prevent it.
"The undersea world is so magical. There was a little bit of trash and debris, but my classmates and I cleaned it up. I hope we can keep the ocean beautiful," he said.
Comments will be moderated. Keep comments relevant to the article. Remarks containing abusive and obscene language, personal attacks of any kind or promotion will be removed and the user banned. Final decision will be at the discretion of the Taipei Times.