KMT slams water development plan
PRECIOUS SUPPLY: A KMT legislator has blamed the government for deforestation and leaky water pipes, which she said lose about 10 reservoirs worth of water annually
The Executive Yuan's proposed budget for the so-called "development of aquatic environments" project of the Forward-looking Infrastructure Development Program is "clearly insufficient" and would likely hamper efforts to prevent floods, Chinese Nationalist Party (KMT) lawmakers said yesterday.
The Cabinet introduced the aquatic environments program to facilitate the nation's water distribution and improve drainage systems in flood-prone areas, and has planned a NT$250.7 billion (US$8.33 billion) budget out of the NT$890 billion earmarked for the infrastructure project.
KMT Legislator-at-large William Tseng (曾銘宗) said two of the three project objectives outlined by President Tsai Ing-wen's (蔡英文) administration — ensuring steady water supplies and preventing flooding — would cost more than NT$220 billion, but the administration has not yet laid out any plans to assess the viability of the objectives.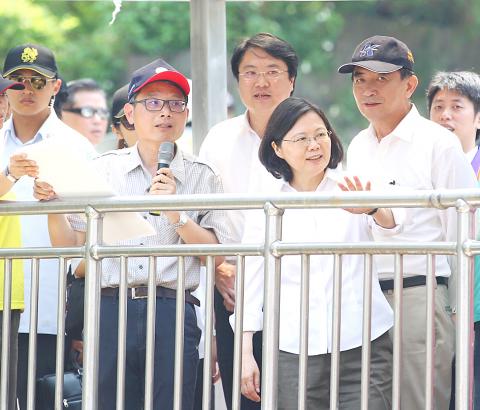 President Tsai Ing-wen, front right, yesterday inspects disaster restoration work at the Dawulun River in Keelung.
Photo: CNA
He panned the administration for designating 43 areas as "highlights" for the program without informing the public how it intends to attain its goals, calling the move "dangerous."
Flood prevention and stable water distribution affect people's livelihoods and the Tsai administration should address the issues with prudence rather than advertising them as "highlights" of its governance, Tseng said.
Another plan to build waterfront parks, which would cost about NT$28 billion, is "not directly related to people's safety" and should therefore be put on hold so the money could be used for water supply stabilization and flood prevention, he said.
The planned budget allocated for flood prevention is clearly insufficient, KMT Legislator Apollo Chen (陳學聖) said, adding that the proposed projects do not address local governments' flood prevention needs.
The Water Resources Agency plans to solve flooding in a 200km2 area, which is not enough, Chen said, citing Taoyuan's Jhongli (中壢) and Gueishan (龜山) industrial zones as examples, which he said have long been neglected by the central government and have been excluded from the forward-looking project.
"Do not expect a quick solution to problems when formulating a plan," KMT Legislator Wang Hui-mei (王惠美) said.
"The Tsai administration has neglected issues of illegal lumbering and building development in catchment areas, and instead proposes to spend large sums on dredging reservoirs," Wang said.
"But how do we rid reservoirs of sediment without first stepping up efforts to protect river heads? How would water shortages be solved?" Wang added.
Instead of spending money on building waterfront parks, the government should address leakages during the water distribution process, as about 10 reservoirs worth of water is lost through leaking pipes every year, she said.
Comments will be moderated. Keep comments relevant to the article. Remarks containing abusive and obscene language, personal attacks of any kind or promotion will be removed and the user banned. Final decision will be at the discretion of the Taipei Times.