KMT councilors question Lai's policy on China
Tainan Mayor William Lai's (賴清德) comment espousing "friendly relations with China, while loving Taiwan" became the focus of a city council meeting on Thursday, with Chinese Nationalist Party (KMT) councilors demanding that he clarify his statement.
KMT Tainan City Councilor Hsieh Lung-chieh (謝龍介) Hsieh said Lai's comment on Monday does not seem to differ from the policy of former president Ma Ying-jeou (馬英九) and reflects a "double standard" on cross-strait policy.
Lai and the Democratic Progressive Party (DPP) were very critical of Ma's cross-strait policies throughout his presidency, panning Ma for being "too friendly" toward China and accusing him of "selling out" Taiwan, Hsieh said.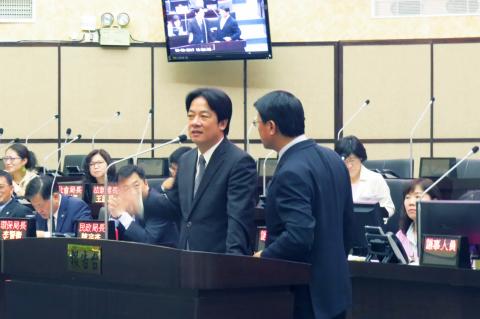 Chinese Nationalist Party (KMT) Tainan City Councilor Hsieh Lung-chieh, right, walks up to the speaker's podium to challenge Tainan Mayor William Lai on Thursday at the Tainan City Council.
Photo: Tsai Wen-chu, Taipei Times
He said he would like to know if Lai would continue to support Taiwanese independence regardless of his post in government.
Lai replied that China's perspective on his comment was of greater importance.
Hsieh disregarded Tainan City Council Speaker Tang Bi-a's (唐碧娥) call for him to return to his seat after he stormed the podium where he had remained while Lai spoke.
KMT Tainan City Councilor Chang Shih-hsien (張世賢) said he would also like to know if Lai considered his actions to be "friendly toward China."
Lai said his statement was valid as it described friendly overtures toward China while maintaining Taiwanese interests at heart.
"We hope that through interaction with China we can reach a deeper understanding of each other, comprehend our differences and achieve peaceful development on both sides of the Strait," Lai said.
When Chang asked if the mayor was friendlier toward China or Japan, Lai said Taiwan should be friendly with all neighboring countries and seek friendship with all nations around the world.
Speaking to reporters after the council meeting, Lai said that Taiwan's future — be it unification or independence — should be decided by Taiwanese through a referendum, with the will of the majority prevailing.
Lai said Taiwan is the central focus of his political ideals, adding that he would adhere to the tenets set out in the DPP's Resolution on Taiwan's Future (台灣前途決議文) and accept the public's decision via a popular vote.
Lai said that he and the DPP refuse to accept the so-called "1992 consensus" in order to guarantee the right of Taiwanese to decide their own future.
The "1992 consensus" refers to a tacit understanding between the KMT and Beijing that both sides of the Taiwan Strait acknowledge there is "one China," with each side having its own interpretation of what "China" means.
Former Mainland Affairs Council chairman Su Chi (蘇起) said in 2006 that he had made up the term in 2000.
Comments will be moderated. Keep comments relevant to the article. Remarks containing abusive and obscene language, personal attacks of any kind or promotion will be removed and the user banned. Final decision will be at the discretion of the Taipei Times.