Judicial reform, jury system promoted
FOOT-DRAGGING: Entrenched interests, 'dinosaur judges' and distrust of the judiciary are hampering efforts to reform the judicial system, several critics said
A weekend conference on the nation's judicial system attended by legal experts and representatives of civic groups heard concerns from several participants that the Presidential Office-led judicial reform effort is being derailed by entrenched forces inside the judiciary.
"Taiwanese do not trust the justice system because our nation still has not completed the 'transitional justice' process and is just in the starting stages of judicial reform," Legal Aid Foundation secretary-general Chen Wei-shyang (陳為祥) said.
"In Japan and Germany, there is no crisis of distrust in their justice systems, and their citizens do not suspect court judges of taking bribes," Chen said.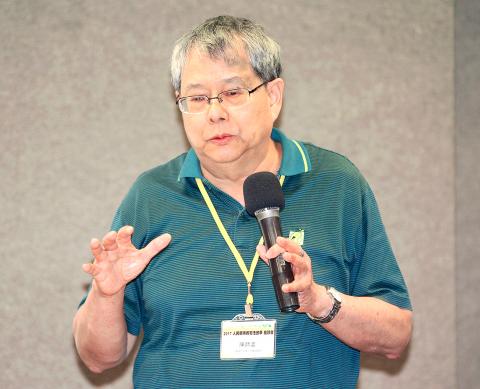 Friends of Beanstalk Association chairman Chen Shi-meng speaks about judicial reform on Saturday during a conference in Taipei organized by several civic groups, including the Ketagalan Institute.
Photo: CNA
"However, we have a very serious problem of distrust in Taiwan," he said.
The conference in Taipei was organized by the Friends of Beanstalk Association, the Ketagalan Institute, the Taiwan Forever Association and the Taiwan Jury Association and was supported by legal reform advocacy groups and other organizations.
Friends of Beanstalk Association chairman Chen Shi-meng (陳師孟), a former Democratic Progressive Party (DPP) member, said the government's judicial reform efforts have lost their focus, as they overlook the real malaise plaguing the justice system.
Reforms have been derailed by judicial officials, most of whom are seeking to block reform to preserve their own privileged positions, Chen Shi-meng said.
"The people inside the judiciary are resisting the reform measures, and are attempting to retain the power and privilege they gained from the previous Chinese Nationalist Party (KMT) administrations," he said.
The meetings being held by the preparatory committee for the National Congress on Judicial Reform should be talking about how to remove "dinosaur judges" and other unsuitable officials, such as prosecutors who do not do their job or use prosecution as a tool for political suppression, he said.
"The Legislative Yuan should amend the Judges Act (法官法) to place checks and balances on the justice system," Chen Shi-meng said. "The Control Yuan should be proactive in impeaching judiciary officials found guilty of misconduct, negligence in their duty or criminal acts."
A number of legal experts have called for implementing a jury system, but there has been resistance at several levels, as well as a debate over whether there should be 12-person juries like in the US or UK, or a more limited participatory jury system with only six jurors, whose decisions can be ignored by a judge.
"Throughout my career, I have seen too much injustice and misconduct in trials, and too often there have been miscarriages of justice. That is why I support the courts going with a jury system," attorney Jerry Cheng (鄭文龍) said.
Openness and democracy are necessary for the judiciary, Cheng said.
Implementing a jury system is one of the ways to realize such openess because it would allow the public to participate in court rulings, he said.
Taiwan Jury System director Chang Ching (張靜), a former judge, said too many judges make rulings based on their personal biases or political leanings.
Jury systems have been successful in other countries and allow the judges to focus on trial procedures and application of the law, while leaving the judgements to the jury members, Chang said.
Additional reporting by staff writer
Comments will be moderated. Keep comments relevant to the article. Remarks containing abusive and obscene language, personal attacks of any kind or promotion will be removed and the user banned. Final decision will be at the discretion of the Taipei Times.