Taiwan News Quick Take
SOCIETY
Raft sails home
A home-made bamboo raft yesterday returned to Hualien Fishing Port, completing a round-trip to Japan's Yonaguni Island in five days. Escorted by two yachts, 10 people in their 60s and 70s took turns paddling the raft made of five bamboo poles on the 220km voyage, which started on Tuesday. Rotating in pairs, the sailors paddled the 6m-long raft to Yonaguni, the westernmost island of Japan. The three vessels, carrying a total of 15 people, arrived in Yonaguni on Wednesday evening and embarked on the return leg on Saturday morning. On arrival in Yonaguni, the sailors were greeted by Japanese yachtsman Komai, who had sailed 1,000km from Nagoya to Yonaguni to welcome them. Su Tar-zen (蘇達貞), a retired National Taiwan Ocean University professor, said the purpose of the voyage was to show people the beauty of Taiwan's seas.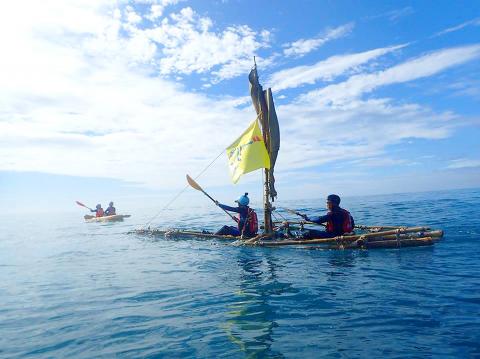 Photo: CNA
SOCIETY
Gas leak prompts evacuation
A chemical plant worker was hospitalized and people living near the plant in Taoyuan were evacuated after a gas leak yesterday, Taoyuan city Fire Department officials said. An ambulance and seven fire trucks were sent to a factory owned by T.N.C. Industrial Co in Lujhu District (蘆竹) at 8:30am in response to reports that a yellow-colored gas was leaking, they said. A 60-year-old worker was taken to hospital after feeling ill, firefighters said. The leak was brought under control at 9:45am, they said, adding that the cause was being investigated. T.N.C. Industrial makes liquid chemicals for the high-tech industry and coating chemicals for a wide range of applications, according to its Web site.
WEATHER
Rain forecast for festival
The Central Weather Bureau has forecast occasional showers and thundershowers for the nation's south and east tomorrow, when the Dragon Boat Festival is to be celebrated, as well as on Wednesday. Brief afternoon thundershowers brought by southwesterly winds are expected in the rest of the nation, the bureau said. Meteorologist Daniel Wu (吳德榮), the bureau's former director-general, cited data from the European Center for Medium-Range Weather Forecasts as saying that with a front lingering over the Bashi Channel, humidity in western Taiwan would decline. Occasional showers are expected in the nation's eastern and mountainous areas until tomorrow, when the front will begin to move north, triggering showers and thundershowers in the south, Wu said. The bureau said Taipei recorded a temperature of 19.7°C on Saturday, the lowest over the past week, adding that the nation's low-lying areas also recorded lows of less than 20°C.
ENVIRONMENT
Air quality worsens
Air quality yesterday deteriorated to unhealthy levels for sensitive groups in several areas in the nation's southwest, while it was ranked good or moderate in the rest of the nation, according to the Environmental Protection Administration's Taiwan Air Quality Monitoring Network. As of 10am, air quality was "orange" in Yunlin County's Douliou Township (斗六), Chiayi, several districts in Tainan and Kaohsiung, and in Kinmen County. An "orange" signal also flashed at a mobile monitoring station in Taichung's Beitun District (北屯). "Orange" level indicates that air quality is unhealthy for small children, elderly people and people with chronic diseases, according to the network's Web site.
Comments will be moderated. Keep comments relevant to the article. Remarks containing abusive and obscene language, personal attacks of any kind or promotion will be removed and the user banned. Final decision will be at the discretion of the Taipei Times.