Former movie poster artist loses home, but finds new mission in Linkou shelter
A formerly famous billboard artist who became homeless is working with the New Taipei City shelter that took him in to help homeless people acquire skills and reenter the workforce.
The artist, who wishes to be known by the nickname A-fu Shih (阿福師), rose to prominence in the 1970s when he was responsible for painting one-third of all movie billboards in the nation. At his height, he was earning between NT$50,000 and NT$60,000 per day.
Later when the industry for hand-painted billboards fell into decline, he found himself without work. The situation was further exacerbated by a vehicle accident that left him injured and unable to seek other employment.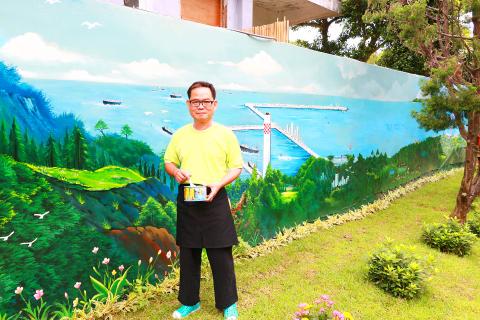 Artist A-fu Shih on Friday stands by a mural he is painting at Linkou Shelter in New Taipei City, where he is staying.
Photo: Tsai Kuan-yu, Taipei Times
When he lost his home A-fu Shih was directed to a homeless shelter in New Taipei City's Linkou District (林口), where he said he found friendship and renewed confidence.
A-fu Shih has recently rediscovered his passion for painting, turning the walls of the shelter into a large mural.
He also helps the shelter by teaching baking classes, part of its efforts to train homeless people with new skills so that they could gain independence and find work.
New Taipei City has various services for homeless people, depending on their individual needs, such as Linkou Shelter, the Wanli Rehabilitation Center and the New Taipei City Outreach Center, Social Welfare Department Commissioner Chang Chin-li (張錦麗) said.
There are about 2,500 homeless people across the nation, whose reasons for losing their home include job loss and family problems, Ministry of Health and Welfare official Lee Mei-chen (李美珍) said.
"I hope Linkou Shelter can share its experience in teaching homeless people new skills with shelters nationwide," Lee said.
Lee lauded the shelter's baking class and tour guide training program, which use resources provided by Hsing Wu University.
One of the shelter's residents, a former engineer nicknamed A-chung (阿中), said he has been taking the baking classes for three months and can now make a variety of breads and pastries.
"I hope I could work as a baker in the future, " A-chung said.
One should remain tenacious in the face of challenges, A-fu Shih said.
"If you want to paint, then paint your best. You cannot be halfhearted," he said.
Comments will be moderated. Keep comments relevant to the article. Remarks containing abusive and obscene language, personal attacks of any kind or promotion will be removed and the user banned. Final decision will be at the discretion of the Taipei Times.