Inauguration Anniversary: INTERVIEW: Tsai emphasizes infrastructure development
Today marks the first anniversary of President Tsai Ing-wen taking office. In an exclusive interview with 'Liberty Times' (sister newspaper of the 'Taipei Times') staff reporter Tzou Jiing-wen on Sunday, Tsai reflected on initiating reforms in the first year of her administration and set objectives for the coming year: moving forward with construction and striving for effective policy implementation. This is the second part of the interview
Liberty Times (LT): What is the significance of the Forward-looking Infrastructure Development Program for the nation? What are your thoughts on the differing opinions regarding the railway construction section of the plan?
Tsai Ing-wen (蔡英文):Infrastructure construction must be pursued without delay. Generally speaking, the speed at which Taiwan is building its infrastructure is falling behind that of others.
Our nation has not planned infrastructure projects of significant scale for a long time, which has caused the lack of a sturdy foundation with which to push for next-stage development.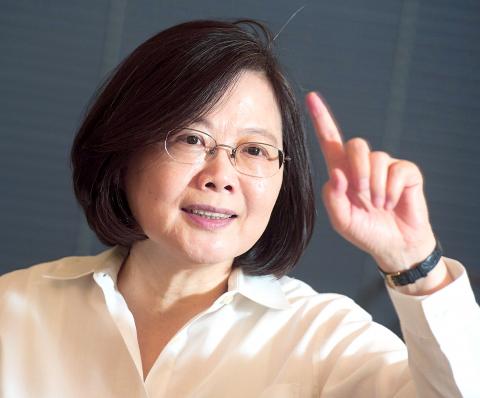 President Tsai Ing-wen gestures during an interview on Sunday in Taipei.
Photo: Huang Yao-cheng, Taipei Times
For example, with insufficient infrastructure for the Internet, development of the digital industry would of course suffer; the lack of railway infrastructure inconveniences tourists and directly contributes to the unwillingness of young people to settle down in certain places, thus causing further imbalance between rural and urban development.
Furthermore, the infrastructure plan might stimulate domestic demand, and provide the opportunity for local industries and governments to train personnel, making them more competitive through involvement with the planning and execution of the plans.
The project is not putting the nation into a deficit; it is an investment for the future.
In terms of railway construction, we must not only emphasize the environmental protection values espoused by "green" travel, but also the convenience, safety and fairness of travel in local areas.
We have clear-cut goals, the first of which is to establish an nationwide railway network.
We are prioritizing the electrification of two railways in particular, the Chaojhou-Taitung section of the South Link Line (南迴鐵路) and the railway connecting the northern and eastern regions, the construction at which is being expedited.
The electrification project for the Huadong Line is also in urgent need of an upgrade.
In terms of balancing regional development — especially of central Taiwan, which has formed its own regional entity — we have planned the construction of a circle line for the Taichung MRT system.
The line will not be constructed all at once, but with the gradual linking of local networks, those living in central Taiwan will be able to quickly travel between urban centers.
For example, the extension of the green line for Taichung's planned MRT from Wurih District (烏日) to Changhua will help link the urban centers of those two cities.
It will not only make travel more convenient for Changhua residents, but will also be of great assistance to regional development.
Thirdly, railway construction must consider the needs of urban development in key metropolises.
For example, the elevation of railways in Chiayi would allow the city government to retain more land for development, while in urban centers such as Kaohsiung, the networked railways will provide better service and allow the city to transition to a different focus.
In terms of the rapidly growing Taoyuan and Hsinchu, the construction of railways — whether MRT or light-rail — is important for development.
LT: What are your thoughts on Taiwan being unable to join the World Health Assembly (WHA) this year due to pressure from China? How will the relationship with China develop?
Tsai:I feel that WHO Director-General [Margaret Chan (陳馮富珍)] is giving the wrong example. The WHO is the entire world's WHO, not China's. It serves the health interests of all of humankind, not the interests of a particular political entity.
In its speech and conduct, it should abide by its charter, not turn its back on the spirit of that charter, pushing Taiwan out for political reasons.
In the process for fighting for permission to attend this year's WHA, it was clear who helped us, who isolated us, who was friendly toward us and who was unfriendly toward us.
I do not feel that China's hard-line approach helps cross-strait relations in the slightest, but I would also like to point out that Taiwan's inability to join the WHA in no way diminishes its importance to the world's health and disease-prevention networks.
The nation's contributions to world health are obvious and our efforts have received international support. We will continue in those efforts and will not give up on international opportunities due to Chinese boycotting.
Over the past year, we have striven to maintain a peaceful and stable cross-strait relationship without provocation or accident.
I have always felt that handling cross-strait relations requires consideration of each side's position. We have to face changing circumstances together and collaborate to ease [tensions] and create a positive atmosphere.
From the case of [human rights advocate] Lee Ming-che (李明哲), to the obstruction of Taiwan's participation in the WHA, China has been persisting with an old mindset and approach to handling [cross-strait relations].
This has resulted in a serious backlash in Taiwanese sentiment and lost opportunities for an easing of tensions and positive development.
However, I must reiterate: Handling of the cross-strait relationship must be done on a foundation of mutual trust and goodwill.
All that is needed is for China to agree to collaborate with us to face changing circumstances, solve problems in cross-strait relations and build a structured relationship based on cooperation, bringing eased tensions and a positive development to the relationship.
LT: What is your perception of the Chinese Nationalist Party (KMT) as it prepares to hold its chairperson election [today]?
Tsai:I can understand a party wanting to get back on its feet after an electoral defeat, but that requires the party to have direction and a method of doing things. Most important is that they understand what the public wants.
My experience of being part of a party that was in opposition for eight years and regained power has taught me that what the public expects from an opposition party is willingness to nurture talent and work hard at the grassroots level.
They want an ideal and future-minded approach to the nation's development.
What the public absolutely does not want is a party that opposes reform and obstructs constructive projects.
When the Democratic Progressive Party was in opposition, it applied itself to the responsibility of supervising, but we did not boycott proposed reforms like that for water regulation and increasing domestic demand. We would give our input and make suggestions during the legislative assemblies.
However, the KMT caucus, central party and KMT politicians at the county and municipal levels refuse to work with us, and I believe I am not the only one who does not even know what their position is.
If there are better proposals, we can all discuss them together and make amendments rather than arbitrarily boycotting.
Translated by staff writers Jake Chung and William Hetherington
This is the second of a two-part interview. Part 1 was published yesterday.
Publication Notes
Comments will be moderated. Keep comments relevant to the article. Remarks containing abusive and obscene language, personal attacks of any kind or promotion will be removed and the user banned. Final decision will be at the discretion of the Taipei Times.