INTERVIEW: President Tsai facing the nation's problems head on
Tomorrow marks the first anniversary of President Tsai Ing-wen taking office. In an exclusive interview with 'Liberty Times' (sister newspaper of the 'Taipei Times') staff reporter Tzou Jiing-wen on May 14, Tsai reflected on initiating reforms in the first year of her administration and set objectives for the coming year: moving forward with construction and striving for effective policy implementation
Liberty Times: What were the major achievements of your first year in office? What policies will you reinforce next year to realize your platform?
Tsai Ing-wen (蔡英文): Before I took office, I set the first year [of my presidency] as the year for initiating reforms.
Past experience indicates that the longer an administration is in power, the more the conditions for reform deteriorate and the weaker its political will becomes. I want to confront the issues that past governments were too unwilling or too timid to deal with, because if the nation keeps getting tied up in old problems, we will not be able to move forward.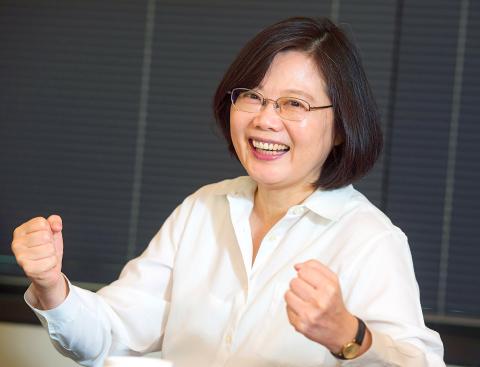 President Tsai Ing-wen gestures during an interview on Sunday in Taipei.
Photo: Huang Yao-cheng, Taipei Times
Due to those concerns, our efforts over the past year focused on the things that past administrations should have done, but did not, and on laying down the essential foundation for reforms.
For example, pension reform has entered its most important stage, which requires patient and careful handling. We have begun adjustments to the industrial structure; social housing projects; the funding and planning for long-term care; the transformation of the nation's energy mix; transitional justice issues; and the Forward-looking Infrastructure Development Program. Those projects, which will transform Taiwan, are already underway. Furthermore, judicial reform is nearing its culmination.
Structural problems build up over long periods. Attempting to address multiple structural issues at the same time is bound to be difficult and it does not offer immediate payoffs.
However, if those projects are not started at the earliest opportunity, the best moment for them to be accomplished would vanish. My objective is to give the nation an opportunity for a fresh start.
The coming year will be a year for construction. The government's most important jobs are adequate communication and effective implementation of policies.
LT: Over the past year, the public has been impatient with the pace of reforms and mystified over the choice of reforms. How would you address these concerns?
Tsai: Warriors cannot choose where to fight; that is the greatest lesson I have learned this year. Some reforms are structural reforms that Taiwan absolutely needs and must be carried out. Others are burdens left behind by former administrations, which must also be processed.
I will not shirk my responsibilities and will do what must be done. I will not leave problems to be dealt with by future generations.
The people have elected me president. My responsibilities are to decide which problems are addressed first and how much time is allotted to each issue after the Cabinet makes a general assessment and plans, and see to it that each issue is addressed.
LT: Surveys have shown that the public's most important expectation is economic recovery. What is your evaluation of Taiwan's economic prospects and what are your plans?
Tsai: According to recent economic indices, the domestic economy is recovering. Exports are growing, unemployment is falling, payrolls are rising and the stock market has performed well. Those are signs that the Taiwanese economy is changing for the better.
However, I am well aware that our improving economy is in large part a result of international market factors, and we will not grow complacent because of it.
The most important task for the government now is to prepare for the next wave of change in the international competitive environment and the state of the global economy.
We are moving full speed on structural economic reforms to improve the health of the economy, augment the competitiveness of our industries and inject momentum for growth.
Our push of the "five plus two" innovative industries [development of an "Asian Silicon Valley," "intelligent" machinery, "green" energy, biomedicine and national defense, as well as a new agricultural business model and a circular economy] is meant to trigger comprehensive upgrades to the nation's industries and gather energy for innovation. These projects are ready and being activated with the deregulation of relevant laws — the results will emerge soon.
Another fundamental obstacle to Taiwan's economic development is not having enough long-term investment and infrastructure. As the economy improves, we should take advantage of this opportunity to the fullest by facilitating private investment.
To address inadequate long-term investment and infrastructure, we must plan for the long term and for the whole economy. This is the reason behind our push for the Forward-looking Infrastructure Development Program at this point. Our goal is to invest in the nation's future and make a competitive, resilient and dynamic Taiwanese economy.
Translated by staff writers Jonathan Chin and Jake Chung
This is the first of a two-part interview. Part II will be published tomorrow.
Comments will be moderated. Keep comments relevant to the article. Remarks containing abusive and obscene language, personal attacks of any kind or promotion will be removed and the user banned. Final decision will be at the discretion of the Taipei Times.