KMT think tank excoriates government
FOREIGN RELATIONS: The closure of the Fiji Trade and Tourism Representative Office and Vietnam signing a missive with China highlight President Tsai's failures
The National Policy Foundation — a Chinese Nationalist Party (KMT) think tank — yesterday criticized President Tsai Ing-wen's (蔡英文) administration, saying that it made a U-turn on a pledge to reduce the nation's economic reliance on China, misrepresented numbers of tourists visiting the nation and suffered diplomatic setbacks in its first year in office.
KMT Legislator Ko Chih-en (柯志恩) told a news conference in Taipei that the Democratic Progressive Party (DPP) accused the administration of former president Ma Ying-jeou (馬英九) during Ma's time in office of "leaning toward China and selling out Taiwan" over the nation's high economic reliance on China, but the trade surplus with China has risen from minus-11.5 percent to 9.4 percent since Tsai took office.
The trade surplus has driven the nation's economic reliance on China from 37 percent to 40 percent, Ko said.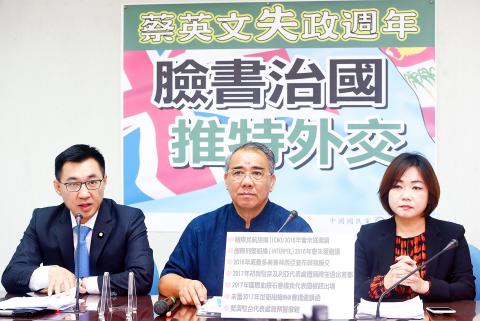 Chinese Nationalist Party (KMT) Legislator Johnny Chiang, left, yesterday criticizes President Tsai Ing-wen for conducting the country's domestic and foreign policy via social media.
Photo: Liao Chen-huei, Taipei Times
"Is the DPP leaning closer to China than Ma did?" she said.
Ko accused the Tsai administration of stealing one of Ma's achievements by saying in September last year that Taiwan ranked 14th in global competence, which she said said was the nation's ranking in 2015, during Ma's final term.
Foundation CEO Sun Lih-chyun (孫立群) said the Tsai administration has dwarfed the nation's status with policies created to attract tourists.
The DPP government has humiliated the nation by introducing visa-waiver programs for travelers from Thailand and Brunei, while travelers from the Philippines only need to apply for an e-visa, Sun said, adding that none of those nations has extended the same treatment to Taiwanese travelers.
Former minister of health and welfare Lin Tzou-yien (林奏延) failed to mention "Taiwan" at the World Health Assembly (WHA) last year, referring to the nation as "Chinese Taipei," which was worse than the speech delivered by then-minister of health and welfare Yang Chih-liang (楊志良), who used the terms "Taiwan" and "Chinese Taipei" at the WHA in 2010, Sun added.
DPP politicians who slammed a speech at the WHA by Yeh Chin-chuan (葉金川) — the former minister of the now-defunct Department of Health who also referred to the nation as "Chinese Taipei" — but refrained from condemning Lin are "bastards" for applying a double standard, Sun said.
Sun insinuated that the DPP government misrepresented the total number of tourists to the nation last year, 10.69 million, saying that the Ma administration's tourism policies contributed the majority of the figure prior to the transition of power in May last year.
He challenged the Tsai administration to publish the "true" number of tourists who visited last year and their expenses per capita, and compare them with the numbers recorded during the Ma administration.
The May 10 closure of the Fiji Trade and Tourism Representative Office was something that would not have occurred when Ma was president, Sun said.
Vietnam "drew first blood" from Tsai's "new southbound policy" by signing a communique with China asserting Beijing's "one China" principle and opposing Taiwanese independence, he added.
Tsai has also been powerless to prevent Taiwanese allegedly working in fraud rings in Spain and Italy from being extradited to China for trial, Sun said, asking why DPP lawmakers who chastised former minister of justice Luo Ying-shay (羅瑩雪) over alleged scammers in Kenya being extradited to China have not directed similar blame to the Tsai administration.
Comments will be moderated. Keep comments relevant to the article. Remarks containing abusive and obscene language, personal attacks of any kind or promotion will be removed and the user banned. Final decision will be at the discretion of the Taipei Times.