Lotus shoe collector has more than 10,000 pairs
GENDER FLUID: While many girls had their feet bound for male pleasure, some males used as prostitutes had their feet bound, while some families did it to raise boys as girls
A New Taipei City doctor, who is recognized as an authority on the traditional Chinese practice of foot binding, has a collection of more than 10,000 pairs of lotus shoes.
David Ko (柯基生), who works at Broad River Hospital in New Taipei City's Tucheng District (土城), has been called a collector, an archeologist, an anthropologist and a sexologist.
Ko was first interested in the study of foot binding when he was 10 years old, which led to his study of medicine.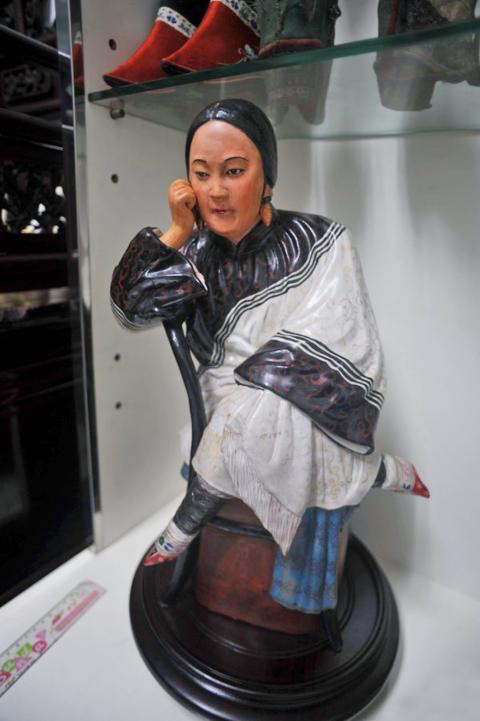 A figurine of a woman with bound feet wearing lotus shoes is displayed in David Ko's private collection in New Taipei City in March.
Photo: Huang Shao-kuo, Taipei Times
Ko said he is curious about what has been a taboo subject, adding that about 3 billion people had their feet bound before the practice ended in the 20th century.
Ko has traveled throughout Taiwan and China photographing and interviewing more than 300 elderly women who had their feet bound.
Ko's collection is thought to be the largest and most comprehensive and has attracted the attention of the Smithsonian Institution National Museum of Natural History, which has borrowed the collection and invited Ko to speak.
Ko has about 5,000 "golden lotus" slippers, which are 3 Chinese inches long (about 10cm), and was once considered the ideal foot length.
He has also collected more than 1,000 photographs of women and girls with bound feet.
Ko said he bought his first pair of lotus shoes for NT$640 at an antiques shop when he was 18.
Foot binding represents the widest-scale example of a cultural practice that involves modifying the female form in the pursuit of "aesthetic perfection," Ko said, adding that the practice was widespread in China during the Northern Song Dynasty and continued for about 1,000 years.
Young girls who chose to have their feet bound did so not for male pleasure, but rather as a form of self restraint, Ko said, adding that the practice formed part of a system of ethics and self-cultivation.
Ko said some males also underwent the practice, adding that historians have connected the practice with male prostitution and to a social practice among some families to raise boys as girls.
Ko said he was surprised to discover that many of the shoes in his collection had belonged to males.
The practice was mostly popular among wealthy Han families, but spread to Manchurians during the Qing Dynasty, Ko said, adding that the expression "small feet are for ladies, large feet are for slaves" became popular in Qing society.
The Qing court officially forbade the practice among Manchurians, but were powerless to stop it, Ko said.
The practice continued in Taiwan even after it was seen as shameful in China, Ko said.
The Japanese colonial administration and civic organizations in the 1920s ended the practice in Taiwan, he said.
Many shoes in Ko's collection were damaged by environmental conditions and rodents.
Ko said he began sealing the shoes in air-tight bags 10 years ago, adding that he controls the lighting, humidity and temperature in his storage room to preserve the collection.
Comments will be moderated. Keep comments relevant to the article. Remarks containing abusive and obscene language, personal attacks of any kind or promotion will be removed and the user banned. Final decision will be at the discretion of the Taipei Times.