New ocean research ship to begin work next year
The nation's newest research vessel, Legend (勵進), is to conduct research in the South China Sea and the western Pacific Ocean next year, the Ministry of Science and Technology said yesterday.
The National Applied Research Laboratories (NARL) said that Legend was launched into waters off Ho Chi Minh City, Vietnam, on May 7 at a ceremony hosted by Representative to Vietnam Richard Shih (石瑞琦).
Legend is Taiwan's fifth-largest research vessel and was built at a cost of NT$870 million (US$28.9 million at the current exchange rate), said officials from NARL's Taiwan Ocean Research Institute.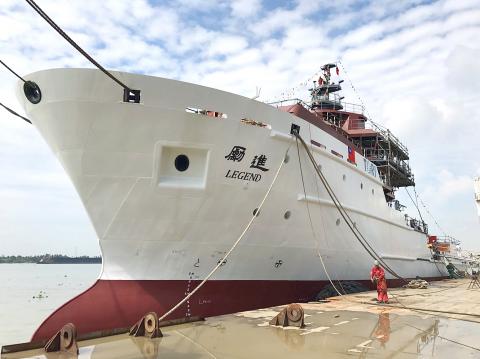 The research vessel Legend is pictured yesterday at its mooring near Ho Chi Minh City, Vietnam.
Photo: Courtesy of the National Applied Research Laboratories
Built by Triyards Marine Service, a Singaporean company based in Vietnam, the vessel features a Remote Operated Underwater Vehicle (ROV) — capable of operating at depths of 3,000m — and a Gravity Core sampler that can work in waters 20m deep, Ocean Exploration Division chief Liu Shao-yong (劉紹勇) said.
Equipped with a 360° electric propulsion system, the ship's design has eliminated traditional engines and promises onboard researchers more comfortable trips, he said.
"It will be quieter than Taiwan High Speed Rail trains when moving," Institute Director-General Lin Hui-ling (林慧玲) said.
Legend is scheduled to conduct earthquake research in the Eastern China Sea together with Japanese research vessels before formally embarking on its own in September next year, Liu said.
There are also plans for ocean-bottom exploration in the South China Sea and in the Manila Trench, he said.
Legend is to sail to Taiwan at the end of this year after the construction of its internal equipment is completed, he added.
NARL Director Wang Yeong-her (王永和) rebutted reports that the ship might stop at Itu Aba Island (Taiping Island, 太平島) or other ports on its way to Taiwan.
It is to collect abundant research samples en route, Wang said.
Legend is to continue the work of Ocean Researcher V, which hit a reef off the coast of Penghu and sank in 2014, Liu said.
Comments will be moderated. Keep comments relevant to the article. Remarks containing abusive and obscene language, personal attacks of any kind or promotion will be removed and the user banned. Final decision will be at the discretion of the Taipei Times.