DPP caucus unveils immigrant unit
The Democratic Progressive Party (DPP) caucus yesterday inaugurated a legislative organization to address issues facing immigrants, tap into international talent and create a friendlier living environment for new arrivals.
Forty-one DPP legislators joined the Immigrant Affairs Development Alliance, including Su Chiao-hui (蘇巧慧), whose constituency has the largest immigrant population in New Taipei City, which is the city with the most immigrants in Taiwan.
DPP caucus secretary-general Lee Chun-yi (李俊俋) said the establishment of the organization could unify and deepen the party's interaction with immigrant communities to better understand their needs and turn their demands into law.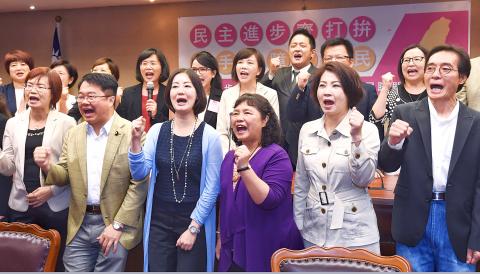 Democratic Progressive Party legislators in Taipei yesterday celebrate the establishment of the party's Immigrant Affairs Development Alliance.
Photo: Liu Hsin-de, Taipei Times
Immigrants are most concerned about restrictions on visas and citizenship, and the DPP caucus would push to revise the Immigration Act (入出國及移民法) and the Nationality Act (國籍法) to lay a better legal framework for foreigners seeking residency or citizenship, he said.
DPP Legislator Su Chih-feng (蘇治芬) said one in 10 households in Yunlin County's Taisi Township (台西) are immigrant households, which is reflected in social issues in the area — both positive and negative — that require government solutions.
Vietnamese children's books have been imported to help children of immigrants learn their parents' language, with language courses taught by people in the community being planned, Su said.
The organization has four divisions, which are to manage immigrant affairs in the north, center, south and east of the nation.
The organization complements the efforts of the DPP's Immigrant Committee, which was established in February and headed mostly by immigrants of Southeast Asian descent who advise the party on policy.
"Immigrants have come to Taiwan to pursue their dreams. What they want is simple: to be treated equally and to make Taiwan their new home," radio host and committee director Tran Thi Hoang Phuong said.
The government has made visible efforts on immigrant issues and there is hope for swift improvement with the establishment of the organization, Tran said.
The government has to harness the talents of immigrants and their children for successful implementation of the "new southbound policy," which seeks to develop closer business and cultural ties with Southeast Asian countries, National Chi Nan University professor Kimyung Keng said.
Businesses attempting to establish a foothold in Southeast Asian countries are often thwarted by cultural and language barriers, while immigrants and their children have the linguistic and cultural capital to help them, said Keng, who is also a member of the committee.
With their knowledge of consumer behavior in Southeast Asian markets, Taiwanese of Southeast Asian descent can help businesses with localization efforts, Keng said, adding that he helped develop a mobile phone application to enable instantaneous translation for overseas Taiwanese business to capitalize on the linguistic resources immigrants bring to Taiwan.
Comments will be moderated. Keep comments relevant to the article. Remarks containing abusive and obscene language, personal attacks of any kind or promotion will be removed and the user banned. Final decision will be at the discretion of the Taipei Times.