President calls for legislative progress
SPECIFICITY: Cabinet spokesman Hsu Kuo-yung urged KMT lawmakers to be specific and identify which of the Forward-looking projects they believe are unnecessary
Following another stalled legislative session amid continued opposition by the Chinese Nationalist Party (KMT) to the Forward-looking Infrastructure Development Program bill, President Tsai Ing-wen (蔡英文) yesterday called for an end to political confrontation for the sake of the nation's development.
"We have no reason to move in circles when many countries have already begun their infrastructure upgrades to lay the foundation for their development," she said.
Tsai said her administration had begun planning the eight-year NT$882.4 billion (US$29.2 billion) initiative even before she was elected president, adding that it presents a vision for the nation's development that is the result of the work of think tanks.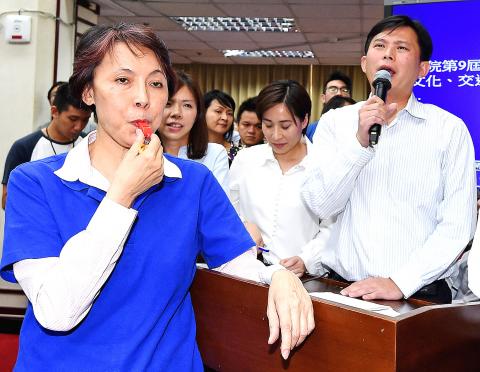 Chinese Nationalist Party (KMT) Legislator Huang Chao-shun, left, yesterday tries to stop a meeting to review a draft bill for the Forward-looking Infrastructure Development Program at the Legislative Yuan in Taipei by blowing a whistle while New Power Party Executive Chairman Huang Kuo-chang, right, speaks.
Photo: Chu Pei-hsiung, Taipei Times
While the "five plus two" industries are key to transforming the nation's economic structure, the Forward-looking program is to create infrastructure that has long been required, she said.
The "five plus two" industries refer to smart machinery, an "Asian Silicon Valley," "green" energy technology, biomedicine and national defense, in addition to a new agricultural paradigm and a circular economy, which together spearhead the government's plan for industrial development.
A number of non-DPP mayors and county commissioners have sought funds from the program for local development, suggesting that there is bipartisan support for the initiative, the president said.
"Balancing urban and rural development is visionary, and investing in Taiwan is visionary," Tsai said, adding that the government would ensure financial stability to avoid leaving future generations in debt as it pushes ahead with infrastructure development.
She urged the KMT to engage in discussion rather than confrontation and allow the legislative review of the bill to begin.
Executive Yuan spokesman Hsu Kuo-yung (徐國勇) urged KMT lawmakers to be specific in their opposition and identify which of the infrastructure projects they believe to be unnecessary.
While the KMT has demanded that the infrastructure initiative be downsized to four years with budgets halved, Hsu defended the plan, citing past infrastructure programs.
Two MRT metropolitan rail lines in New Taipei City that are under construction cannot be completed in four years, while it took more than a decade to complete a flood prevention project along the Keelung River, Hsu said, adding that the Forward-looking program is a long-term project that would require continuous budget support.
The program, which is focused on railway construction in cities other than Taipei and New Taipei City, would help develop central and southern cities, he added.
"Is it fair that Kaohsiung has been left out? Central and southern Taiwan have large populations who also pay taxes. Why is it that MRT lines are always built in northern Taiwan?" Hsu said.
Comments will be moderated. Keep comments relevant to the article. Remarks containing abusive and obscene language, personal attacks of any kind or promotion will be removed and the user banned. Final decision will be at the discretion of the Taipei Times.