Airport exhibit tells stories of Green Island's dark history
An exhibit on Green Island's history as a penal colony for political dissidents and Taiwan's democratization is on display in the arrivals area at Taiwan Taoyuan International Airport's Terminal 2.
Organized by the Preparatory Office of the National Human Rights Museum, the exhibition features photographs, films, artifacts and scale models that detail the suffering and persecution faced by political prisoners and the nation's transition from authoritarianism to democracy, the Ministry of Culture said.
An exhibit commemorating former prisoners held on Green Island has been held annually on the island, but the ministry said it moved the display to the airport this year to show the nation's support for universal human rights.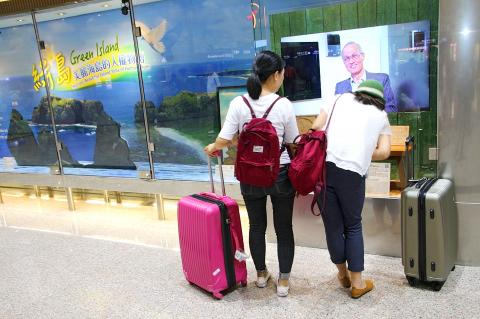 Two visitors from Hong Kong on Tuesday read the story of Taitung County's Green Island Human Rights Memorial Park displayed at a "cultural window" at the Taiwan Taoyuan International Airport.
Courtesy of the Preparatory Office of the National Human Rights Museum
The exhibit also features replicas of artworks created by the prisoners, such as physician Hu Hsin-lin's (胡鑫麟) astronomical chart, a handwritten book of songs by teenager Chou Hsien-nung (周賢農) and Ouyang Wen's (歐陽文) famed large oil painting Lily Flower of Jiangjyunyan (將軍岩百合).
Two tourists from Hong Kong who were looking at the exhibit on Tuesday said that they knew Green Island as a beautiful resort island, but were unaware of its tragic history before viewing the exhibition.
The exhibition is scheduled to close on Aug. 7.
Comments will be moderated. Keep comments relevant to the article. Remarks containing abusive and obscene language, personal attacks of any kind or promotion will be removed and the user banned. Final decision will be at the discretion of the Taipei Times.