Pension reform must help ordinary workers: forum
Pension reform proposals should be adjusted to plow savings into better pensions for ordinary workers, Social Democratic Party (SDP) members and labor advocates said yesterday at a forum criticizing President Tsai Ing-wen's (蔡英文) stances on a range of social and economic issues.
"Calling for pension reform savings to be reinvested into government employees' pension funds is absurd because we should really be focusing on helping the truly needy," SDP policy convener Chen Shang-chih (陳尚志) said at a forum on government accomplishments as the one year anniversary of Tsai's inauguration approaches.
He criticized pension reform plans for failing to include better benefits for impoverished elderly people, calling for a "pension floor" to be established to protect National Labor Insurance pensions below NT$17,200 (US$568) from reform cuts.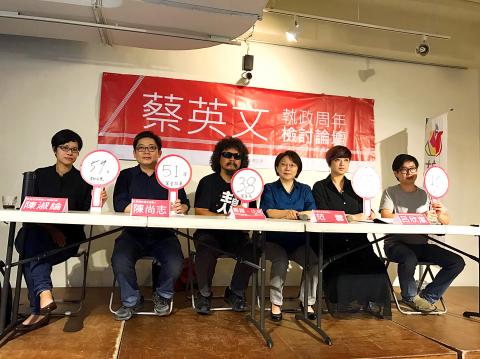 Social Democratic Party members and guest speakers attend a forum in Taipei yesterday to discuss five major policies of President Tsai Ing-wen's administration.
Photo: Su Fang-he, Taipei Times
In addition, payments to the long-term unemployed from the National Pension should be increased to NT$7,000 per month, he said.
Government employees are to earn substantially higher pensions than those offered by the Labor Insurance system. Most pension reform proposals guarantee a "pension floor" of between NT$22,000 and NT$32,000 for civil servants and teachers.
The cost of guaranteeing the Labor Insurance pension floor and increasing National Pension payments could be covered by the NT$117.3 billion per year that the Cabinet's reform plan would cut from government employees' pensions, he said.
In addition, NT$50 billion could be saved by hastening cancellation of industry tax breaks under the expired Act for Upgrading Industries (促進產業升級條例), which could also be used, Chen said.
"The government has been pushing forward a misleading discussion by treating a basic social guarantee of labor insurance pensions like private insurance, where people only get a return on an investment," Taipei City Confederation of Trade Unions executive director Chen Shu-lun (陳淑綸) said.
She blasted government plans to cut labor pension further, even though premiums and retirement ages are already gradually increasing under reforms enacted in 2009.
"We have very little to start with, but the government is seeking to make further cuts by playing with how our average salary base is calculated," she said.
She criticized the government for failing to factor in inflation as it seeks to increase the number of years used to calculate the average and also for lacking "core values" in determining its labor policies, and instead "seeking to please everyone."
She called for Tsai to reject industry calls for further revisions to the Labor Standards Act (勞動基準法).
Taiwan Tongzhi Hotline Association research associate Lu Hsin-chieh (呂欣潔) echoed Chen's remarks about the government's lack of values.
"Originally, we hoped that Tsai wanted to be a friend to homosexuals, but we have since discovered that she intends to keep her distance," Lu said, criticizing government efforts to find "societal consensus" on homosexual marriage.
"The government needs to realize that getting everyone to agree to marriage equality is impossible because it concerns values," she said.
Other advocates criticized government stances on Aboriginal rights and the Forward-looking Infrastructure Development Program.
A Labor Insurance pension floor is unfeasible because of the expense, and the government is only able to guarantee that workers would "get what they put in," said Department of Labor Insurance director Shih Fa-chi (石發基) of the Ministry of Labor.
A pension floor of between NT$17,000 and NT$18,000 would increase the government's monthly expenditures by NT$90 million to NT$100 million, he said.
Additional reporting by Peng Wan-hsing
Comments will be moderated. Keep comments relevant to the article. Remarks containing abusive and obscene language, personal attacks of any kind or promotion will be removed and the user banned. Final decision will be at the discretion of the Taipei Times.