Teachers' union wants changes made to Executive Yuan's pension reforms
Money saved from getting rid of preferential savings rate accounts for retired public employees should be plowed back into the nation's pension funds, a teachers' union said yesterday as the Legislative Yuan began review of bills on reforming teachers' pension.
"There is only one criterion as we look at reform — whether or not any money that is saved is entirely plowed into the pensions funds," National Federation of Teachers Unions deputy secretary-general Lo Te-shui (羅德水) said.
While the Executive Yuan's reform proposal includes the critical provision, some versions proposed by Democratic Progressive Party legislators do not.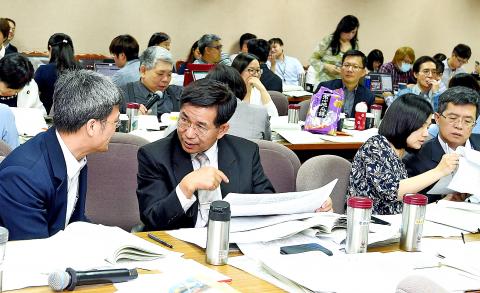 Minister of Education Pan Wen-chung, second left, yesterday attends a meeting of the Judiciary and Organic Laws and Statutes Committee at the Legislative Yuan in Taipei that was reviewing draft amendments on civil servants' pension reform.
Photo: Chu Pei-hsiung, Taipei Times
A committee review of pension reform for civil servants last week struck out a similar provision from the government-sponsored bill, he added.
Eliminating retirees' access to preferential savings rate accounts offering above market interest rates is a major source of savings under government sponsored reform.
However, because such interest is now paid out of the annual budgets of the retirees' former agencies, the savings will not do much to stave off the pending bankruptcy of the pension funds without a specific mandate increasing proportional government contributions to the funds, he said.
"We cannot accept pension reform which devolves into local governments skimming off profits from the cuts," he said.
Legislation should codify government promises to set up new accounts within the pension funds to ensure that the savings are used to pay the pensions of future retirees, Lo said.
He also criticized proposals that would allow the government to adjust pensions — without legislative approval — when changes to the government's finances and the national economy require it.
Only revisions tied to the consumer price index should be allowed, he said.
"[Otherwise] this would probably lead to continual changes," Lo said. "They could tamper with pensions almost at whim."
Union president Chang Hsu-cheng (張旭政) called for more flexibility in determining teachers' retirement age, saying that each teacher's eligibility should be based on a combination of age and years of service rather than fixed at 60 years of age as the Executive Yuan's bill stipulates.
Absolute ceilings on the pension "replacement ratios" relative to teachers' original salaries would discourage teachers from working longer, Chang said.
As pension replacement ratios are calculated based on teachers' years of service, the fixed ceilings would penalize any teachers who work longer than 35 years, he said.
The union also called for Public Employee Insurance to be excluded from the pension ceiling on the grounds that its fund is not expected to go bankrupt anytime soon, unlike the teachers' general pension fund.
Comments will be moderated. Keep comments relevant to the article. Remarks containing abusive and obscene language, personal attacks of any kind or promotion will be removed and the user banned. Final decision will be at the discretion of the Taipei Times.