Farglory sees Taipei Dome cost jumping to NT$40bn
Taipei Dome contractor Farglory Group yesterday said that it would need about NT$400 million (US$13.15 million) to fix corrosion problems at the Dome, which, together with losses sustained due to a prolonged suspension of work, would push its total construction cost to more than NT$40 billion.
Farglory spokesman Jacky Yang (楊舜欽) made the statement following an inspection of the construction site with Taipei City Government officials and Chinese Nationalist Party (KMT) Taipei City councilors Li Keng Kuei-fang (厲耿桂芳) and Chung Hsiao-ping (鍾小平).
"Photographs of the Dome's mostly bare roof taken by a drone shows that there are more than 30 corroded spots per 1m2," Yang said.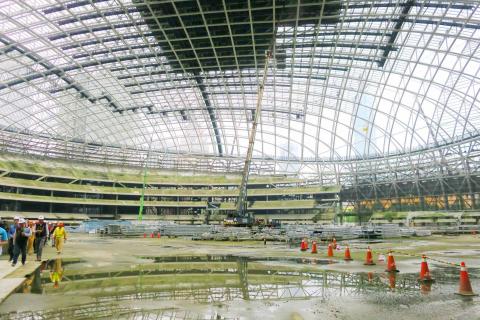 The construction site of Taipei Dome in Taipei's Xinyi District is pictured yesterday.
Photo: Kuo An-chia, Taipei Times
Based on the Dome's floor area of 32,000m2, that would put the total number of corroded spots at about 1 million, Yang said.
With the additional cost, the Dome's estimated cost would rise to more than NT$40 billion considering other losses that Farglory would absorb, including the cost of reinforcement work on 14 areas of the structure and salary payments to the Dome's subcontractors, Yang said, adding that building material prices have increased this year.
Even if construction work were to fully resume today, the Dome would still take between 20 and 22 months to complete, Yang said.
Li Keng said that although the Dome is a build-operate-transfer project in which the Taipei City Government does not have a stake, the monetary losses suffered by Farglory would ultimately be transferred onto taxpayers.
Taipei Department of Urban Development Deputy Commissioner Chang Kang-wei (張剛維) urged Farglory to step up efforts to work on the 14 areas that could pose risks to public safety per the city government's order.
He reiterated that the construction was suspended by the city government because Farglory had deviated from the approved construction blueprint, so the extra cost should be shouldered by Farglory.
The issue is being reviewed by a court, Chang added.
Asked to comment on Farglory's remarks, Taipei Mayor Ko Wen-je (柯文哲) said that the Ministry of the Interior's review of the structure's safety has reached a stalemate since it passed four safety reviews by the Taiwan Building and Architecture Center in December last year.
Members on a ministry review committee are from an "objective third party," as they were not assigned by the Taipei City Government, which is what Farglory had always wanted, Ko said.
The lack of progress on the Dome reviews indicate that it is Farglory's fault for having deviated from the blueprint, and the company should strive to resolve any issues if it wants construction to resume, Ko said.
Comments will be moderated. Keep comments relevant to the article. Remarks containing abusive and obscene language, personal attacks of any kind or promotion will be removed and the user banned. Final decision will be at the discretion of the Taipei Times.