Sunflower movement not civil disobedience, Ma says
The Sunflower movement of 2014 was an "illegal and non-peaceful" protest that does not qualify as civil disobedience, former president Ma Ying-jeou (馬英九) said yesterday.
Speaking at a corporate awards ceremony organized by the Chinese-language Cheers magazine, Ma said that having been involved in the Baodiao movement (保釣) during his college days, he believed that student movements should be peaceful and should not break the law.
Baodiao refers to a movement to defend the disputed Diaoyutai Islands (釣魚台).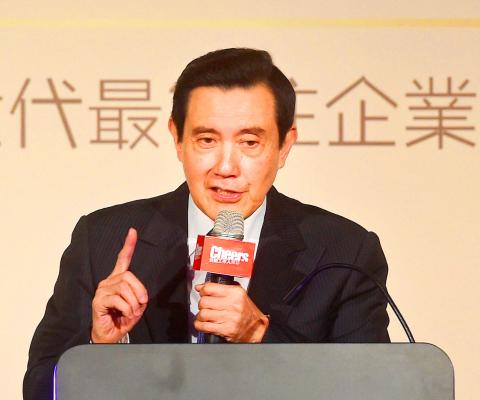 Speaking at a corporate awards ceremony in Taipei yesterday, former president Ma Ying-jeou says the 2014 student-led Sunflower movement is not an example of civil disobedience.
Photo: Fang Pin-chao, Taipei Times
Illegal or non-peaceful gatherings are not a form of civil disobedience and involve "moral hazards" that lead to people resisting anything they dislike, Ma said.
Quoting a 19th-century US writer who advocated civil disobedience, Ma said people must accept the consequences of their disobedience.
Ma was likely referring to US poet and writer Henry David Thoreau.
The author of Civil Disobedience said that unjust laws should not be followed and refused to pay taxes in protest of slavery and the Mexican American War, for which he was briefly imprisoned.
The former president made the remarks one day after Sunflower movement leader Chen Wei-ting (陳為廷) rejected comparisons between the student-led movement in 2014 with the pension reform protesters outside the legislature on Wednesday, when some demonstrators attacked lawmakers and government officials.
Chen said that unlike the pension reform protest, the Sunflower movement was a peaceful demonstration against a controversial cross-strait service trade agreement.
A total of 22 Sunflower participants who were indicted for breaking into the legislature compound in March 2014 were acquitted by a district court on March 31, which said they were engaged in "civil disobedience."
Addressing the issue of youth employment, Ma said that Taiwan continues to lack skilled workers in spite of the high rate of university enrolment.
The deficiency can be addressed by importing skilled workers from China or other countries, he said.
"An open economy will bring prosperity, while a closed one will wither," Ma said.
During the Sunflower movement, the Wall Street Journal Asia published an editorial entitled "Taiwan leaves itself behind," he said.
He quoted the editorial as saying that with an economy dependent on the service industry, Taiwan has suffered significant negative effects from refusing to sign the cross-strait service trade agreement.
Ma said he hoped young Taiwanese would understand the difficulties and opportunities for the nation's development and would choose to go on the path of economic openness, not protectionism.
Additional reporting by CNA
Comments will be moderated. Keep comments relevant to the article. Remarks containing abusive and obscene language, personal attacks of any kind or promotion will be removed and the user banned. Final decision will be at the discretion of the Taipei Times.