Heart failure is often a neglected disease: foundation
The Taiwan Heart Foundation yesterday said heart failure is an often neglected disease, citing a survey showing that 52 percent of respondents were first diagnosed with heart failure after being taken to an emergency room.
The foundation cited as an example a 74-year-old man surnamed Wu (武), who was saved by a cardiac catheterization after he had a heart attack 10 years ago.
However, Wu in April last year began to cough continuously after developing a cold, and his condition deteriorating three months later when he developed shortness of breath and pleural effusion.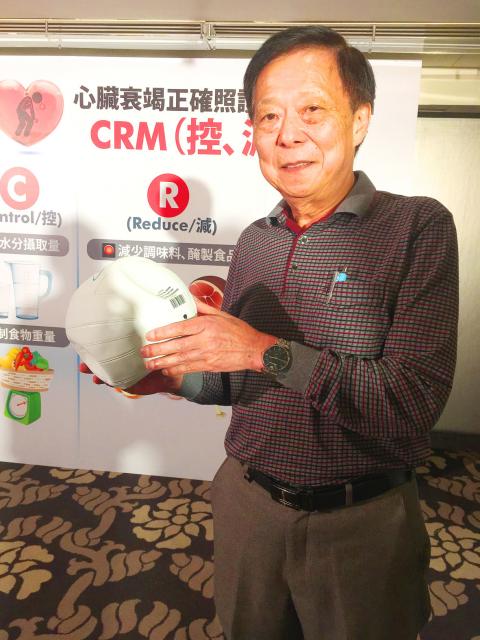 A 74-year-old man surnamed Wu yesterday takes part in a news conference held by the Taiwan Heart Foundation in Taipei to alert the public to the serioueness of heart failure. Wu recovered from heart failure thanks to proper treatment last year.
Photo: Lin Yen-tung, Taipei Times
He first learned that his heart was failing after being hospitalized and receiving another cardiac catheterization and medication.
The foundation said Wu's story is a typical case, citing its survey that showed that more than half of heart failure patients were first diagnosis after a visit to an emergency room because early symptoms are easy to ignore.
Foundation chief executive Lin Jiunn-lee (林俊立), who also serves as director of the Taiwan Society of Cardiology, said heart failure patients in Taiwan are hospitalized an average of about eight days, adding that the five-year survival rate is nearly 50 percent, higher than some common cancers, but delayed diagnosis often leads to more serious conditions that are harder to treat.
Shin Kong Wu Ho-Su Memorial Hospital cardiologist Hung Huei-fong (洪惠風) said when the heart becomes weak and fails to pump out all the blood that returns to it, the condition is called heart failure.
One survey showed that difficulty breathing (68 percent) and chest pain (65 percent) were the two main symptoms exhibited by heart failure patients, among other symptoms such as coughing, fatigue, panting and edema, he said.
People who have had a heart attack, heart disease or have high blood pressure, high blood cholesterol or high blood sugar — and those with a family history of heart disease are at greater risk of heart failure, Hung said, urging such people to closely monitor their health.
Comments will be moderated. Keep comments relevant to the article. Remarks containing abusive and obscene language, personal attacks of any kind or promotion will be removed and the user banned. Final decision will be at the discretion of the Taipei Times.