Death penalty rejected for convicted murderer
CONSIDERATIONS: Hsieh Yi-han had no prior criminal record, was of good character and had no unusual views while in school, so she poses little risk of re-offending, judges said
The Supreme Court yesterday upheld a Taiwan High Court sentencing of life imprisonment handed down to murderer Hsieh Yi-han (謝依涵), rejecting an appeal by prosecutors for the death penalty.
The court said that it decided to uphold a life term and overturn the death sentence given by lower courts, because the defendant has a good likelihood of rehabilitation and reintegration into society and poses a low risk of re-offending.
"The consideration also rests on the fact that she has no prior criminal record. None of the professionals who evaluated her gave her a negative assessment of her character. Her work colleagues lauded her work performance," the Supreme Court said.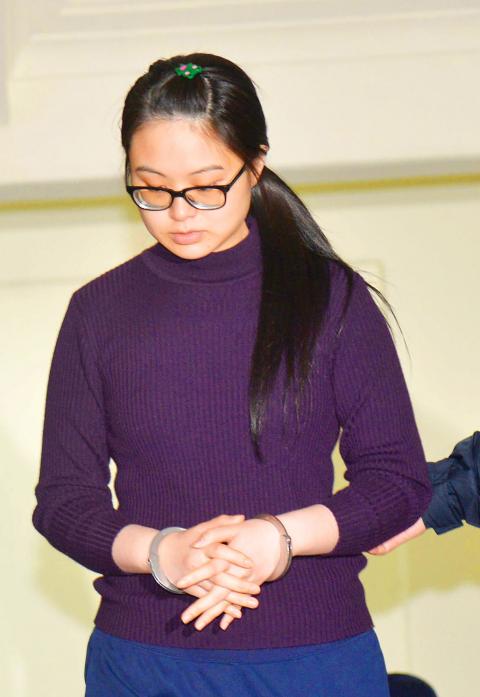 Hsieh Yi-han, who was convicted of robbing and murdering an elderly couple in New Taipei City in 2013, is seen in an undated photograph. She escaped the death penalty yesterday as the Supreme Court denied an appeal against a life term handed down by a lower court.
Photo: CNA
Hsieh was a good student without any extreme or unusual views, the Supreme Court said, adding that she was not negative nor did she break any rules during her incarceration.
Hsieh was sentenced to death by three lower courts, with the Supreme Court returning the case to the High Court twice for retrial over the murder of businessman Chen Chin-fu (陳進福) and his wife, Chang Tsui-ping (張翠萍), in February 2013.
Prosecutors filed an appeal with the Supreme Court after the High Court in January overturned Hsieh's death sentence in a retrial.
At the time of the murders, Hsieh was a manager at a coffee shop called the Mama Mouth Cafe on the Tamsui River in New Taipei City's Bali District (八里).
The victims' family members yesterday said they could not accept the Supreme Court's decision, which is final and cannot be appealed.
"If Hsieh does not get the death sentence, then there is no consolation for the victims and there is no justice for society," a family member who did not want to be named said.
"The ruling was made by 'dinosaur judges.' They chose to give leniency to Hsieh, but they have no regard for human life," the family member said.
Separately yesterday, the High Court reduced Wu Chang Hsiao-tzu's (武張孝慈) punishment from a life sentence to a 25-year jail term.
The 23-year-old in 2014 murdered his employer and his employer's girlfriend in Hsinchu County.
The rulings have created some division in society, with accusations that "dinosaur judges" are out of touch with society and have disregarded the suffering of the victims and their families.
Comments will be moderated. Keep comments relevant to the article. Remarks containing abusive and obscene language, personal attacks of any kind or promotion will be removed and the user banned. Final decision will be at the discretion of the Taipei Times.