Tourism Bureau offers incentives
The Tourism Bureau yesterday rolled out new incentives to attract tourists from nations targeted by the government's "new southbound policy," after the Ministry of Foreign Affairs further relaxed visa requirements for people from some Asia and Southeast Asia nations.
Bureau of Consular Affairs Director Deneral Agnes Chen (陳華玉) said that since August last year the ministry has waived visas for Thais and Bruneians.
Although the program is a trial, Chen said that it has already contributed to significant growth in visitor numbers from both countries.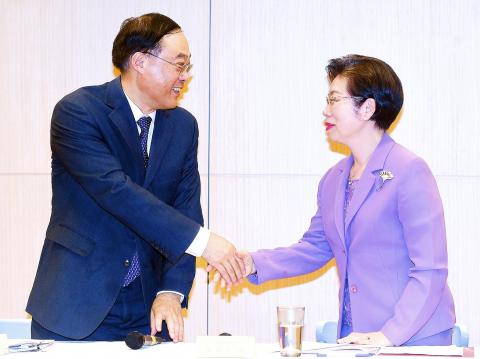 Tourism Bureau Director-General Chou Yung-hui, left, and Bureau of Consular Affairs Director-General Agnes Chen yesterday shake hands at a news conference after announcing that Taiwan will expand visa privileges for visitors from several Southeast Asian and South Asian countries.
Photo: Liao Chen-huei, Taipei Times
The ministry has extended the visa-waiver program for both for another year, Chen said, adding that the program is to expire on July 31 next year.
Chen said that the Philippines is to be included in the program this year, for one year.
Indian, Vietnamese, Indonesian, Burmese, Cambodian and Laotian tourists can apply for a Taiwan travel authorization certificate online, Chen said.
Such requirements are to apply to visitors from Southeast Asian countries who have been granted visas (work visa excluded) in the past 10 years and did not overstay their visas, she said.
Sri Lankans and Bhutanese can also apply for tourist visas as the ministry relaxed the screening procedures for travelers from those countries, Chen added.
Indian, Vietnamese, Indonesian, Burmese, Cambodian and Laotian business travelers can apply for electronic visas if they have recommendations from the Taiwan External Trade Development Council office in their country, she said.
The ministry said the Philippines has been included the visa-waiver program after consultation with government agencies in charge of immigration, trade, national security and others found that the number of Filipinos who have overstayed their visa are "within a controllable range."
Tourism Bureau Director-General Chou Yung-hui (周永暉) said that the bureau considers the Philippines a strong potential tourism market.
The Philippines is geographically close and travelers can reach Taiwan within five hours, he said.
He said that the visa-waiver program would likely help increase the number of Filipino tourists by 33 percent to about 230,000 people.
The bureau also introduced the incentives to attract other international visitors, it said.
International tourists who come with tour groups could receive between NT$20,000 and NT$150,000 in subsidies if they spend three days in Taiwan and visit artistic and historic sites.
Each person could receive a subsidy of between NT$400 and NT$800 for tour groups that spend more than four days in Taiwan.
Tourists of incentive tour groups from Singapore, Malaysia, the Philippines, Thailand, Brunei, Indonesia, Vietnam, Lao, Myanmar, Cambodia, India, Bhutan, Australia and New Zealand can each receive NT$400 on the first or second day of the four-day tour in Taiwan if the group has more than 50 people, the tour said. In addition, their tour groups would receive NT$80,000 to NT$120,000 in additional subsidy if they also watch local art performances subsidized by the Ministry of Culture or historic and cultural sites recommended by the local governments, depending on the size of their tour groups.
"We estimate that the incentive will generate more than NT$800 million (US$26.18 million) in revenue," Chou said.
Comments will be moderated. Keep comments relevant to the article. Remarks containing abusive and obscene language, personal attacks of any kind or promotion will be removed and the user banned. Final decision will be at the discretion of the Taipei Times.