Students aim to help strays with restaurant project
Six National Taitung University students have won second place in the Innovative Commercial Projects contest hosted by the Kun Shan University with their proposal for a pet-themed restaurant embracing the "adopt, do not buy" concept.
The issues of pets and strays have become popular study topics due to the nation's aging population and low marriage rates, the women's instructor, Liu Li-chuan (劉麗娟), said, adding that the six want to turn theories about the issues into practice.
The restaurant is something the students want to do and their devotion to tackling the issue of strays is what makes the proposal moving, Liu said.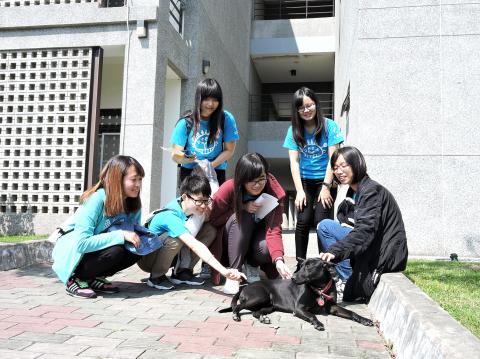 Lin Meng-chen, Huang Ya-chun and Mao Yu-chuan pet a dog as Lin Yi-wen, left, and Chen Hui-yu and Lin Yu-chen, standing, look on in Taitung County on Tuesday.
Photo: Chang Tsun-wei, Taipei Times
Three of the students — Chen Hui-yu (陳慧郁), Lin Yu-chen (林愉甄) and Lin Meng-chen (林孟臻) — are enrolled in entrepreneurship courses offered by the Ministry of Labor's "Micro-Enterprise Phoenix Program" and have earned first-level certificates, Liu said.
The program, which was launched on Feb. 16, 2009, offers loans to women aged 20 and above to start micro-enterprises and help create jobs.
Another one of the six, Mao Yu-chuan (毛玉娟), came up with the idea of using four products that Taitung is famous for — red quinoa, millet, pigeon peas and Roselle flowers — at the restaurant to focus on local cuisine, with ingredients from local farmers.
She said they also hope to work with the university's Department of Education Industry and Digital Media to develop pet-themed souvenirs and products.
The women plan to promote the "adopt, do not buy" concept by keeping six cats and dogs at the restaurant to interact with customers, Mao said.
The students were inspired by the growing number of strays around the university's Jhihben (知本) campus, she said.
We hope to offer a way to prevent more animals from becoming strays, she said.
Comments will be moderated. Keep comments relevant to the article. Remarks containing abusive and obscene language, personal attacks of any kind or promotion will be removed and the user banned. Final decision will be at the discretion of the Taipei Times.