Ministry to boost controls of 'therapeutic' food ads
'OUTRAGED': Food products cannot be claimed to have therapeutic effects and doctors should not endorse them, Minister of Health and Welfare Chen Shih-chung said
The Ministry of Health and Welfare will tighten controls over food companies that use advertisements to suggest that their products have therapeutic effects, or mislead people by labeling their products as "endorsed" or "recommended" by doctors, Minister of Health and Welfare Chen Shih-chung (陳時中) said on Wednesday.
Chen made the announcement during a question-and-answer session at the legislature's Social Welfare and Environmental Hygiene Committee meeting in response to a question by Democratic Progressive Party (DPP) Legislator Lin Ching-yi (林靜儀), who is a gynecologist/obstetrician.
"We are outraged to see food companies taking advantage of information asymmetry and consumers' feeling of insecurity to sell their products," Lin said.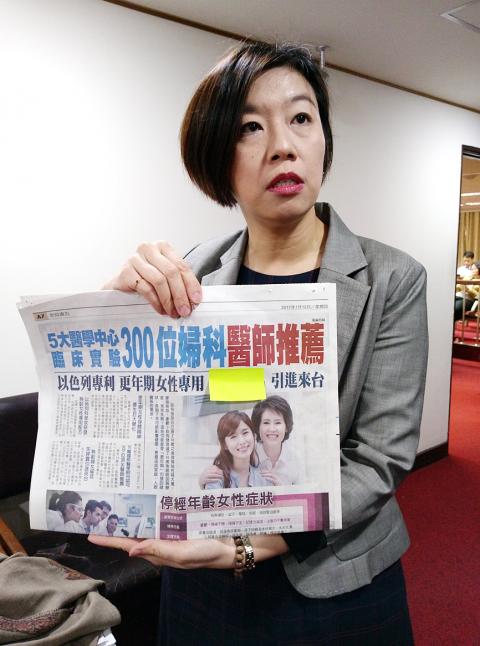 Democratic Progressive Party Legislator Lin Ching-yi holds up a newspaper advertisement of herbal supplement during a question-and-answer session at the legislature in Taipei on Wednesday.
Photo: Wu Liang-yi, Taipei Times
Some companies advertise dietary supplements in ways that imply therapeutic effects, for example by having a doctor talk about a disease or healthcare, followed by an advertisement of the product, Lin said.
Lin held up a full-page newspaper ad of a herbal supplement run in January, which had the phrases: "Five major medical centers," "Clinical experiments" and "Recommended by 300 gynecologists" in large, bold lettering.
She asked if the company has violated the law.
"Food products cannot be claimed to have therapeutic effects. Doctors are not supposed to endorse such products," Chen said.
The legality of such advertisements has been ambiguous, "but we now consider them illegal," Chen said.
Food and Drug Administration (FDA) Director-General Wu Shou-mei (吳秀梅) said food products cannot be labeled, promoted or advertised as having therapeutic effects, and those who do so may face a fine of between NT$600,000 and NT$5 million (US$19,633 and US$163,612).
The FDA last year fined 3,982 food companies a total of about NT$115 million over such violations, Wu added.
Lin said she contacted the Taiwan Association of Obstetrics and Gynecology and asked about the "300 gynecologists" who recommended the herbal supplement, after which the food company said the advertising company used the word "recommended" by mistake.
Wu said the food company has violated the law and might be fined.
When Lin asked whether doctors who endorse food products that claim to have therapeutic effects would also be punished, Chen said doctors would face consequences if they endorse such products in a professional capacity.
Lin said many food companies that sell "medicine-like" products continue to do so even after being fined multiple times, as the profits outstrip the fines.
Comments will be moderated. Keep comments relevant to the article. Remarks containing abusive and obscene language, personal attacks of any kind or promotion will be removed and the user banned. Final decision will be at the discretion of the Taipei Times.