Trump meeting 'no concern': experts
'MUTUAL DOWNPLAY': National Chengchi University researcher Yen Chen-shen said that the summit in Florida with Xi Jinping would be nothing more than a 'friendly chat'
Academics said that Taiwanese should not be "too worried" that the nation might be a focus at a meeting between US President Donald Trump and Chinese President Xi Jinping (習近平) in Mar-a-Lago, Florida, yesterday and today, because Taiwan would be eclipsed by North Korea and US-China trade issues.
Trump's meetings with Egyptian President Abdel-Fattah al-Sisi and Jordanian King Abdullah II, and Xi's visit to Finland this week show that both sides are seeking to downplay the importance of the Trump-Xi meeting, National Chengchi University Institute of International Relations researcher Yen Chen-shen (嚴震生) said.
A speech in Finland by Xi on free trade was in stark contrast to the economic protectionism prevalent in the US, Yen said, adding that Xi seems to be trying to balance Beijing's ties with Europe.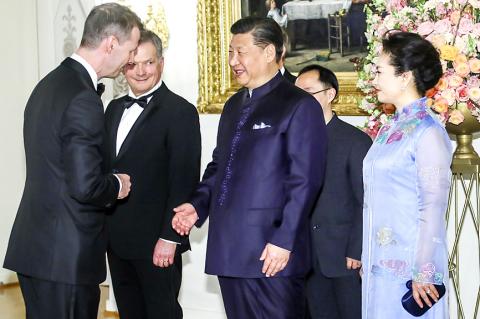 Chinese President Xi Jinping, center, and his wife, Peng Liyan, are escorted by Finnish President Sauli Niinisto, second left, ahead of a dinner at the Presidential Castle in Helsinki, Finland, on Wednesday.
Photo: EPA
The conservative camp in the US is supportive of Taiwan and has advised Trump to put more pressure on Beijing regarding South China Sea and human rights issues, but Trump has been emphasising trade and has little concern for human rights issues, Yen said.
If Trump were to press China regarding human rights issues to appease conservatives, Taiwan would worry that trade-offs might be made.
Yen said the summit would be nothing more than a "friendly chat" between the two leaders, as the Trump administration has yet to develop a coherent Asia strategy or put in place a policy team for the region, precluding the possibility of an announcement of a joint communique.
It is more likely that the meeting will address issues such as North Korea and US-China trade, Yen said.
National Sun Yat-sen University professor Liao Ta-chi (廖達琪) said anti-terrorism efforts and the South China Sea issue have better chances of being raised than issues regarding Taiwan.
Liao said her assessment was based on Trump telling Xi in a telephone call on Feb. 10 that the US would honor the "one China" policy.
Taiwan must deepen democracy, strengthen society, tout the values of human rights, contribute meaningfully in international organizations and seek to perform well economically, Liao said.
We must become so well off that China cannot act against us and others can only praise Taiwan, Liao said.
This is how small nations must act to position themselves in the international society, she said.
A Ministry of Foreign Affairs official said on condition of anonymity that Trump would press China on the North Korea issue in exchange for trade concessions.
"Taiwan is not an issue that the US wants to talk about," the official said.
Yen said that Taipei must prioritize its military needs in light of the rumor that the Trump administration plans to approve an arms sale to Taiwan.
Yen said that the administration of President Tsai Ing-wen (蔡英文) must consider how it will achieve a consensus within Taiwan on issues of trade with the US, such as pork imports.
However, "policy negotiations [within Taiwan] will be extremely difficult," Yen said.
Comments will be moderated. Keep comments relevant to the article. Remarks containing abusive and obscene language, personal attacks of any kind or promotion will be removed and the user banned. Final decision will be at the discretion of the Taipei Times.