Tsai urged to pan activist's detention
UNDERMINED Rights activists have said that the government's refusal to be tough on China could be viewed on the international stage as acquiescence to Beijing's jurisdiction
A coalition of more than 18 groups yesterday condemned the detention of human rights activist Lee Ming-che (李明哲), calling on the government to issue a tougher response.
Lee, a former Democratic Progressive Party (DPP) staffer and instructor at Wenshan Community College, has been held incommunicado for about two weeks by Chinese authorities, who say he was involved in "activities that threaten [China's] national security."
He was reported in the media as missing on March 21, shortly after entering Guangzhou from Macau.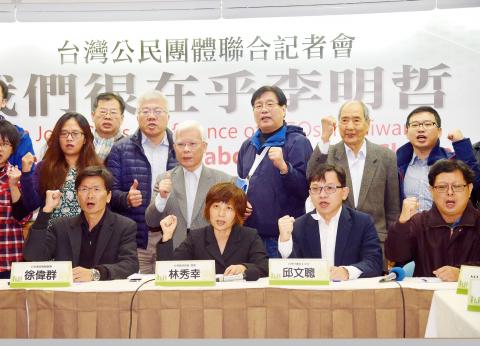 A panel of non-governmental organization members yesterday discuss the detention of human rights advocate Lee Ming-che in China, at a news conference at National Taiwan University's Alumni Hall in Taipei.
Photo: CNA
His wife, Lee Ching-yu (李淨瑜), said the purpose of his trip was to share Taiwan's democratization experience.
"Whether it is intentional or not, the Chinese government is sending a message: They want to turn Taiwan into another Hong Kong or Macau — and Lee Ming-che's detention puts pressure on Taiwanese to self-censor," Taiwan Association of University Professors president Lin Hsiu-hsin (林秀幸) said, adding that Lee Ming-che's case is the first time that an international non-governmental organization worker has been detained since Beijing passed its Law on Management of Domestic Activities of Overseas Non-Governmental Organizations last year.
The Chinese government has yet to announce official charges against Lee Ming-che..
"The Chinese government is sending a message to the international community: They are now powerful enough that they should not be offended under any circumstances," Taiwan Forever Association executive secretary Hung Chung-yen (洪崇晏) said.
Economic Democracy Union executive secretary Chen Guan-yu (陳冠宇) condemned the Chinese government for failing to officially notify Taipei of Lee Ming-che's detention as stipulated by the Cross-Strait Joint Crime-Fighting and Judicial Mutual Assistance Agreement (海峽兩岸共同打擊犯罪及司法互助協議).
"If the notification system can be brushed aside like this, how can we believe that any agreement we sign with China will be implemented," he said.
Chen has called on President Tsai Ing-wen (蔡英文) and Premier Lin Chuan (林全) to publicly address the case.
"The DPP government should break their silence rather than continuing to put the issue on the back burner," Independent Youth Front executive committee member Liu Hui-chung (劉惠中) said. "Failing to take an official stance will be interpreted as acquiescing — and we are personally concerned that the government will not act if we are kidnapped one day."
Failing to take a firm official stance could lead to the international community viewing China as having jurisdiction over Taiwanese, she said, adding that China's refusal to abide by the terms of the Judicial Mutual Assistance Agreement shows that Beijing views such agreements as a means of weakening Taiwanese sovereignty.
While both the Mainland Affairs Council and DPP headquarters have issued statements, neither Tsai nor Lin have addressed the case directly.
Taiwanese Lawyers Network for the Support of Chinese Human Rights deputy convener John Wei (魏千峰) called for other political parties to issue statements on the case.
Comments will be moderated. Keep comments relevant to the article. Remarks containing abusive and obscene language, personal attacks of any kind or promotion will be removed and the user banned. Final decision will be at the discretion of the Taipei Times.