Jury advocate gives roses to judicial reform panel
ENGAGEMENT: Former grand justice Hsu Yu-hsiu recommended that judicial documents be written in plain language to make them easier to understand
Taiwan Jury Association chairman Chang Ching (張靜) yesterday presented officials at the fourth subcommittee meeting of the national conference on judicial reform at the Supreme Court in Taipei with red roses before a discussion on how to implement a jury system.
Chang, a former judge who quit but continued to practice law as an attorney, wanted to draw attention to his case, enabling effective participation and input by citizens in the judicial process through a jury system.
His move was apparently mocking Judicial Yuan President Hsu Zhong-li (許宗力), who has led conservative forces within the judiciary to oppose a jury system, saying: "Pushing for a jury system in Taiwan is like trying to grow roses in the desert."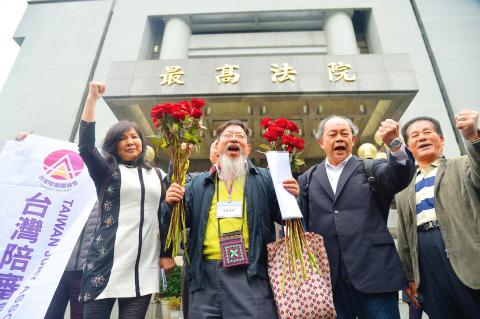 Taiwan Jury Association chairman Chang Ching, second left, holds 50 roses before entering the Supreme Court in Taipei yesterday.
Photo: CNA
"What Hsu does not know is that there are actually species of roses that can grow in the desert," Chang said at the meeting in the afternoon.
"In the years to come, no matter if we get a jury system or a more limited way for citizens to participate in the judicial process, there will be major changes and effects. For any of these options, there are positive and negative aspects, including for the current system of court rulings by professional judges," he said.
"What we do know is that the current system has resulted in 80 percent of the public not trusting our judicial system," Chang said.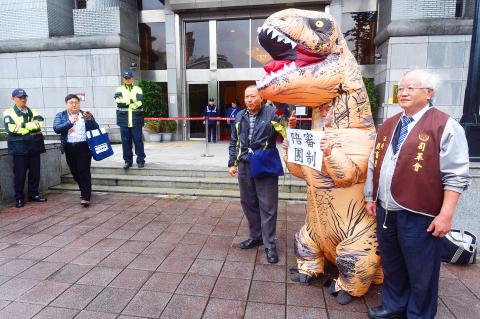 People opposed to the introduction of a jury system protest outside the Supreme Court in Taipei yesterday, where a subcommittee of the National Conference on Judicial Reform held an extraordinary meeting to discuss a potential jury system and public participation in sentencing.
Photo: George Tsorng
He handed a rose to each subcommittee member, including judges, saying: "We hope the red rose can symbolize a sacred flower that can break the curse on the judicial system."
"The jury system can help to preserve the impartiality of the courts. It can separate the distinct duties of jurors and judges," Judicial Reform Foundation executive director Kao Jung-chih (高榮志) said.
"That way, judges would not be encumbered in criminal cases. The public could also effectively participate in the judicial process, allowing them to better relate to it," Kao added.
Former grand justice Hsu Yu-hsiu (許玉秀) cited the results of a survey, which showed that many people have difficulty comprehending court rulings.
She and other members recommended that rulings by judges and judicial documents be written in plain language to make it easier for average citizens to better understand them.
Comments will be moderated. Keep comments relevant to the article. Remarks containing abusive and obscene language, personal attacks of any kind or promotion will be removed and the user banned. Final decision will be at the discretion of the Taipei Times.