Baseball fans plan march to save team
'PATRIOTIC FANS': A petition with more than 60,000 signatures is calling for a complete overhaul of the baseball association following recent team defeats
A march to save Taiwanese baseball is planned for Saturday, as a campaign to disband and rebuild the Chinese Taipei Baseball Association (CTBA) garnered more than 60,000 signatures yesterday.
Meanwhile, more revelations by officials gave impetus to the call for major governmental reforms.
The campaign, started by people calling themselves "patriotic fans," began in the aftermath of a dismal showing by Team Taiwan, which suffered three straight defeats this week to crash out of the World Baseball Classic tournament (WBC).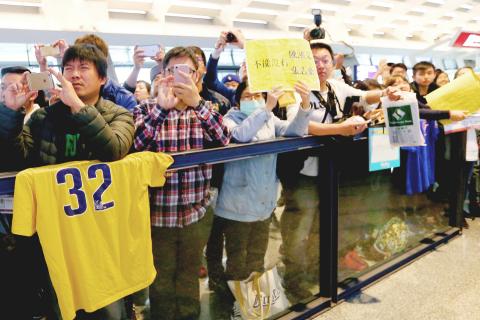 Baseball fans wait at Taiwan Taoyuan International Airport to welcome the Taiwanese national baseball team on its return from South Korea on Friday after it failed to advance in the World Baseball Classic.
Photo: Chu Pei-hsiung, Taipei Times
Many who have joined the campaign placed most of the blame for the team's failures in recent years on the CTBA for its perceived mismanagement and questionable finances, although some also pointed to shared responsibility by the Chinese Professional Baseball League (CPBL), underachieving players and coaches, political parties and government sports agencies.
Event organizer Liu Yen-cheng (劉晏丞) said campaigners are asked to gather at the Taipei CTBA office at 1pm on Saturday for a series of planned protest activities, followed by a march to the Sports Administration Building, where they will present a petition.
Liu said their demands include a request to "all current CTBA executives, board of directors members and supervisors to resign, and to prohibit politicians from involment in the CTBA."
In their place, a new governing body should be composed of representatives from the professional baseball players' union, four CPBL ballclubs, school and amateur teams and professionals, such as analysts, statisticians, sports science practitioners and physiotherapists, Liu wrote on Facebook.
"The baseball governing body must have total transparency in accounting and financial reporting. It should reveal to the public all past money expenses, government subsidies and corporate donations. We want to see all the expenses for this WBC tournament and subsidies from the Sports Administration," he said.
The campaign requested that special laws be drafted so that athletes, coaches, team staff and support personnel can receive proper wages, insurance and medical cover when they travel abroad as members of the national team.
"Fans are fed up with the CTBA's many problems. It is time to tell the government and the CTBA that we will no longer accept their meaningless reviews, which never amounted to any change," he said.
Democratic Progressive Party Legislator Chang Liao Wan-chien (張廖萬堅) said that the CTBA is controlled by its secretary-general, while most board directors, executives and supervisors have no real power.
Chang Liao, who resigned as a member of the CTBA board of directors on Friday, also requested that CTBA chairman Liao Cheng-ching (廖正井) and CPBL commissioner John Wu (吳志揚) — both major figures in the Chinese Nationalist Party (KMT) — resign so that "politics will no longer interfere in baseball."
Comments will be moderated. Keep comments relevant to the article. Remarks containing abusive and obscene language, personal attacks of any kind or promotion will be removed and the user banned. Final decision will be at the discretion of the Taipei Times.