228, PAST AND PRESENT: Univerity pays respects to '228 alumni'
Chuo University president Shozaburo Sakai on Monday led a group of faculty members from the Japanese institute to Taipei to pay their respects to Taiwanese alumni who perished in the 228 Incident.
The group visited the Taipei 228 Memorial Museum, where Sakai presented 1,000 origami cranes — a symbol of healing in Japan — made by students of the university's two affiliated junior-high schools, along with a letter that read: "We grieve for the loss of our Taiwanese seniors who passed away before realizing their ambitions."
Sakai said he hoped Chuo University students would not forget the lost Taiwanese alumni and would continue their legacy, adding that he hoped to see stronger ties between the two nations.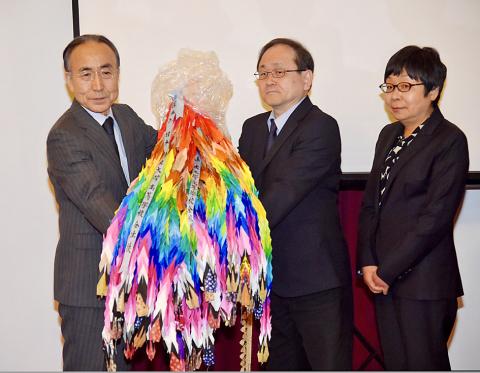 From left, Chuo University president Shozaburo Sakai and professors Ryoichi Matsuno and Yasuyo Nakajima from Japan hold origami cranes at an event in Taipei on Monday in memory of Taiwanese Chuo University alumni who died in the 228 Incident.
Photo: Huang Yao-cheng, Taipei Times
Sakai said he first heard of the Taiwanese Chuo alumni who died in the Incident when university professor Yoichiro Nakagawa visited the museum in 2011 and saw an old Chuo University hat.
Nakagawa learned that the hat belonged to former Taiwan provincial councilor Lin Lien-tsung (林連宗).
Lin and two fellow alumni — Lee Jui-han (李瑞漢) and his brother, Lee Jui-feng (李瑞峰) — went missing after they were arrested by police.
Chuo University became interested in learning more about the Incident upon learning that three of its alumni were among its victims.
Nakagawa and Policy Studies Dean of Faculty Ryoichi Matsuno initiated a research project to investigate the lives of the three deceased alumni's families, with plans to publish the results.
"The Chinese Nationalist Party (KMT) used to say that Taiwan lacks talent in the fields of law and government, but just looking at these victims who were alumni of Chuo University's law and politics programs, one can see that is not the case," Memorial Foundation of 228 chairman Hsueh Hua-yuan (薛化元) said.
Foundation records show that 11 of the Incident's victims were Chuo University alumni.
Comments will be moderated. Keep comments relevant to the article. Remarks containing abusive and obscene language, personal attacks of any kind or promotion will be removed and the user banned. Final decision will be at the discretion of the Taipei Times.