Water leaks detected on airport metro platforms
'GREEN' DESIGN: The leaks were caused by mud and fallen leaves clogging drainage holes, causing water to overflow, the Bureau of Taiwan High Speed Rail said
Water leaks were detected in several stations along the Taiwan Taoyuan International Airport metro rail line following heavy rains in northern Taiwan over the past week.
The line is to begin commercial operations on Thursday, but several elevated stations, including Linkou Chang Gung Memorial Hospital Station (A8), were on Saturday found to have rainwater on the platforms.
Taoyuan Metro Corp, which operates the line, said that rainwater accumulated on the platforms due to the stations' "green" architecture, adding that it has contacted the Bureau of Taiwan High Speed Rail to examine and repair the leaks.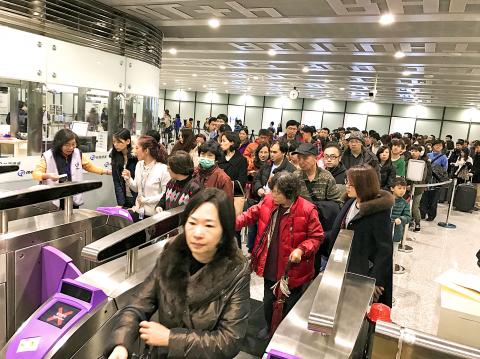 Passengers wait inside Airport Terminal 2 station on the Taiwan Taoyuan International Airport MRT line yesterday.
Photo: CNA
The bureau yesterday said that the leaks were caused by mud and fallen leaves clogging drainage holes and pipes, causing rainwater to overflow.
Some ceiling sections above the railway tracks were also found to be leaking rainwater, as their seams had come loose, it said, adding that it has asked the construction company to repair the ceilings.
Inspections at several elevated stations found that some drainage pipe joints had also come loose, the bureau said.
The elevated stations have a hollow section above the railway tracks to allow better lighting and ventilation, which might leak during heavy rains, it added.
The bureau said that it will re-evaluate its original wind and rain prevention designs, add prevention devices at hallways and platforms, and improve the rainwater drainage system, as well as ask the maintenance company to enhance its daily cleaning and maintenance operations.
Taoyuan Mayor Cheng Wen-tsan (鄭文燦) yesterday announced that the line's operation hours will be extended to 9pm starting today.
Taoyuan Metro Corp said traffic on the line has reached more than 800,000 passengers since trial runs began on Feb. 16, adding that traffic reached 100,000 passengers yesterday alone, due to the 228 Memorial Day long weekend, which served as a load stress test.
It estimated that daily traffic would exceed 100,000 passengers in the final three days of the trial run.
The Taoyuan City Government yesterday announced a discount program for group tickets.
Tickets purchased in quantities of 300 or more will be given a 50 percent discount and the tickets will be valid for 100 days, during which passengers can ride an unlimited number of times between specific stations, Cheng said.
He said the program is aimed at encouraging people to use the line for their daily commute and that it targets groups such as large communities, companies, schools and government agencies.
Additional reporting by CNA
Comments will be moderated. Keep comments relevant to the article. Remarks containing abusive and obscene language, personal attacks of any kind or promotion will be removed and the user banned. Final decision will be at the discretion of the Taipei Times.