Tibetans advocate residency changes
PUBLIC POLICY: The group called for the government to publicize the abolishment of special handling rules for Tibetan spouses and update online information
Several Tibetans living in Taiwan and members of the Union of Excluded Immigrants and Unwanted Citizens on Wednesday petitioned the Executive Yuan to allow Tibetan spouses of Taiwanese living in the nation to apply for residence permits with the exit permit that they hold as exiled Tibetans, without being required to obtain a police clearance certificate issued in India.
A Taiwanese, nicknamed Hsiao-yu (小禹), said that when she and her Tibetan husband tried to apply for a residence permit for him, an immigration official told them that her husband's certificate had expired and that they must obtain a new one, leaving them feeling that the law discriminates against Tibetans and Taiwanese.
Chanting "Tibetan spouses in Taiwan should be able to apply for residence permits in Taiwan," they said that the government should consider the special circumstances of Tibetan spouses in Taiwan, because they are exiled refugees and stateless.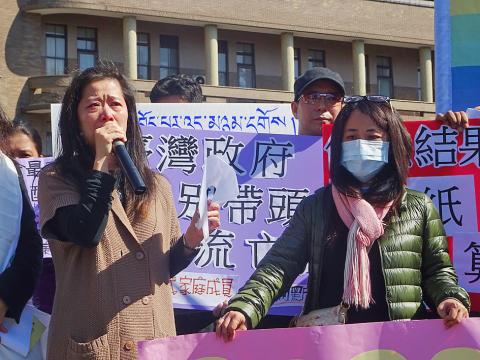 A Taiwanese woman, left, nicknamed Hsiao-yu, who is married to a Tibetan, speaks at a rally outside the Executive Yuan in Taipei on Wednesday.
Photo: Li Hsin-fang, Taipei Times
They urged the government to modify regulations to allow them to provide documents proving clear criminal records within five years rather than a certificate from India.
An Executive Yuan official accepted their petition, saying that the government would create measures to deal with individual cases.
Union members Cheng Hsiao-ta (鄭小塔) and Chuang Hui-ling (莊惠玲) said the Cabinet late last year officially abolished the special handling process for reviewing visa applications of Tibetan spouses in Taiwan holding Indian travel documents so that they could apply for a residence permit like other foreign spouses, but the government has not made the policy public, leaving many families unsure of their rights in the nation.
They urged the government to announce the policy and make it public on government agencies' official Web pages, including the application procedure, required documents and other detailed explanations, in Chinese, English and Tibetan.
Comments will be moderated. Keep comments relevant to the article. Remarks containing abusive and obscene language, personal attacks of any kind or promotion will be removed and the user banned. Final decision will be at the discretion of the Taipei Times.