Ministry to scrutinize bus tours
SUPERVISION: The Ministry of Transportation and Communications is to launch an evaluation system that will impose stricter requirements on tour buses and operators
Following a fatal bus accident on Monday that killed 33 people, the government is to clamp down on low-price day tours and require that safety equipment be installed in buses and trucks to ensure road safety.
Premier Lin Chuan (林全) yesterday ordered the Ministry of Transportation and Communications (MOTC) to conduct a comprehensive investigation into low-price day tours, as operators of those tours might sacrifice safety to save money and bus drivers might be overworked by driving long distances in one day.
Current regulations cannot eliminate problematic tour buses or unsafe practices, so the ministry should tighten its regulation of substandard tour operators and shut them down when necessary, Lin said.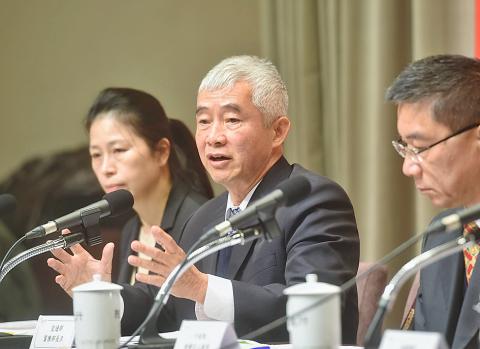 Minister of Transportation and Communications Hochen Tan, center, speaks about bus safety measures at the Legislative Yuan in Taipei yesterday.
Photo: Fang Pin-chao, Taipei Times
To improve safety, the ministry is to fund the installation of a driver assistance system in 2,000 buses and trucks and provide partial funds for the system's installation in another 3,000 large vehicles to reduce accidents associated with vehicular blind spots, Minister of Transportation and Communications Hochen Tan (賀陳旦) said, adding that the system would be required on all large vehicles from next year.
The ministry is also to fund the installation of a GPS system in all tour buses to monitor their activities, which would be standard equipment for all tour buses from September, he said, adding that about 20 percent of the nation's 17,000 tour buses lack such a system.
The ministry is also to finalize the review of a new tour bus evaluation system in three weeks, he added.
The system — first proposed by the Directorate-General of Highways in 2006, but postponed due to a tourism industry boom fueled by a dramatic increase in Chinese tourists — would impose stricter requirements to cap the number of tour buses, phase out substandard vehicles and improve driver management and operator practices, Hochen said.
"Unfortunately, a timely review [of the evaluation system] was not completed in 2006 and supervision of the tour bus sector has loosened due to a rapid increase in the number of tour buses serving Chinese tourists," he said.
With the exception of tours catering exclusively to Chinese visitors, "the government has not intervened in general tourism practices, such as by defining the maximum travel distance for day tours or the pricing of dining services," Hochen said.
The MOTC and the Ministry of Labor have started a nationwide random inspection program, which checks if drivers are overworked or the pricing of tours is unreasonably low, to ensure public safety and the government is to identify tour services considered unsafe, he said, calling on the public to report potentially dangerous practices.
"The nation as a whole must remove all safety hazards in the shortest possible time," Hochen said
Tour buses manufactured before 2006, when new vehicle safety standards were announced, would be examined or recalled to eliminate older vehicles, he said.
Comments will be moderated. Keep comments relevant to the article. Remarks containing abusive and obscene language, personal attacks of any kind or promotion will be removed and the user banned. Final decision will be at the discretion of the Taipei Times.