Ministry unveils measures on prosecutorial reform
The Ministry of Justice yesterday announced a set of measures to reform the prosecutorial system — including allowing public input in the evaluation of prosecutors — to meet public calls for changes and pave the way for the upcoming national affairs conference on judicial reform.
"Many people have expressed their concern over the scrutiny of prosecutors and their conduct in handing criminal cases. They have also expressed their support for more public input in the judicial process," Minister of Justice Chiu Tai-san (邱太三) told a news conference, where he was joined by Prosecutor-General Yen Ta-ho (顏大和) and Taiwan High Prosecutors' Office Chief Prosecutor Wang Tien-cheng (王添盛).
"The ministry is willing to lead the change by starting with reforms to the prosecutorial system," Chiu said.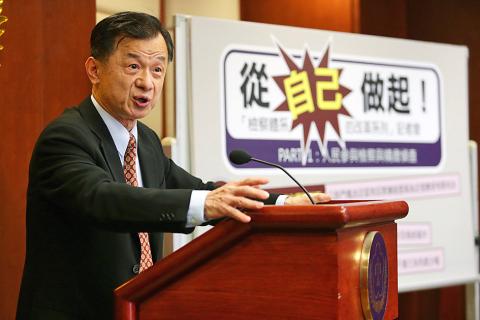 Minister of Justice Chiu Tai-san gestures at a news conference at the Ministry of Justice in Taipei yesterday as he announces a plan to reform the judicial system.
Photo: CNA
The new measures include enhancing teamwork and promoting investigative competence, raising the threshold on indictments, adding public input in the "prosecutors' review committee" and improving the system for evaluating prosecutors' performance.
To improve teamwork and competency, Chiu said the name of the head prosecutor and subordinate prosecutors handling major criminal proceedings should be listed for public scrutiny.
"We have seen prosecutors diligently put in efforts to improve their work in recent years, maintaining a conviction rate of more than 96 percent and a non-conviction rate of about 3 percent," Chiu said. "We cannot compare yet with Japan's more than 99 percent conviction rate, but our prosecutors are doing good work compared with other advanced, democratic countries."
He said Taiwan compares quite favorable with the US and Germany, whose non-conviction rates are 8.7 percent and about 3 percent respectively.
"We do have flaws in a few of the prosecution cases, and since these cases have affected individuals' rights, they have led to an accumulation of public discontent and grievances. The public naturally expects prosecutors to conduct prosecution in a thorough and meticulous manner. The ministry must therefore lead the way to reform, instead of becoming the target for reform in the upcoming national affairs conference," Chiu said.
To enhance the evaluation system for prosecutors, members of the public will be chosen to join the prosecutors' review committee and committee members will be empowered to initiate probes into cases deemed in need of redress or rectification, he said.
The committee would be vested with the authority to mete out disciplinary measures upon finding negligence or wrongdoing by prosecutors, he said.
At present, the committee can only make recommendations for prosecutors, which could be overturned by other committees, resulting in accusations of prosecutors covering up for their colleagues.
Comments will be moderated. Keep comments relevant to the article. Remarks containing abusive and obscene language, personal attacks of any kind or promotion will be removed and the user banned. Final decision will be at the discretion of the Taipei Times.