Diet, light exercise most important for older dogs
There are five essentials for maintaining a dog's health in old age, including changing its diet and avoiding excessive exercise, Wu Chou Animal Hospital veterinarian Chen Chen-huan (陳震寰) said.
The Taipei-based veterinarian said that dogs more than seven years old are considered advanced in age, adding that dogs in this stage of life should be cared for in a way similar to elderly people.
A dog's dietary needs change in advanced age, Chen said, adding that food for older dogs should be lower in fat content and designed with the dog's heart in mind.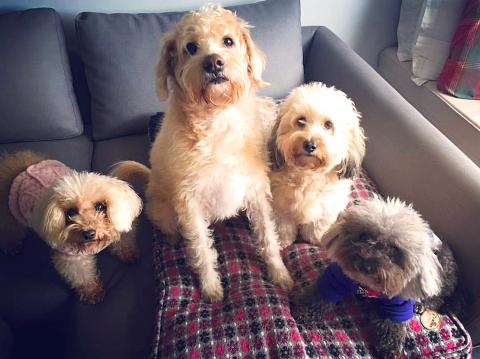 Several small breeds of dog are pictured sitting on a sofa on Jan. 15.
Photo: CNA
Unsuitable food could also cause chronic pancreatitis, he added.
Pet snacks must also be carefully chosen since dogs are not able to metabolize sodium as easily as humans can, Chen said.
Despite their advertisements, many dog snacks are not beneficial to the animal's cardiovascular and digestive systems, and snacks with strong smells especially should be avoided, since their sodium content is particularly high.
Chen said that pet owners can prepare their own snacks like boiled chicken breasts, which are much healthier for dogs.
It is also important to take pets for regular checkups, including x-rays and blood tests, when they get older to ensure that health problems are discovered and to know when to change a dog's diet, he said.
Exercise must not be excessive, Chen said, adding that a pet owner should stop their dog from exercising after seeing signs that they are tired.
Some dogs do not need outdoor exercise at all and should be kept indoors to avoid health complications, he said.
Comments will be moderated. Keep comments relevant to the article. Remarks containing abusive and obscene language, personal attacks of any kind or promotion will be removed and the user banned. Final decision will be at the discretion of the Taipei Times.