Diplomatic ties solid: Honduran envoy
'TAIWAN MONTH': Hondurans are looking forward to President Tsai Ing-wen's visit, the ambassador said, urging more investment and describing himself as 'Taiwan-loving'
Honduran Ambassador to Taiwan Rafael Fernando Sierra Quesada yesterday rebutted a rumor that it was due to the wobbling relationship between the two nations that President Tsai Ing-wen (蔡英文) made Honduras the first stop in her nine-day visit to Central America, which begins today.
The ambassador called for a deeper relationship between the two nations in terms of commerce and education to further solidify ties and create a win-win situation for both countries.
Honduran President Juan Orlando Hernandez last year visited Taiwan before Double Ten National Day celebrations, and invited Tsai to visit Honduras.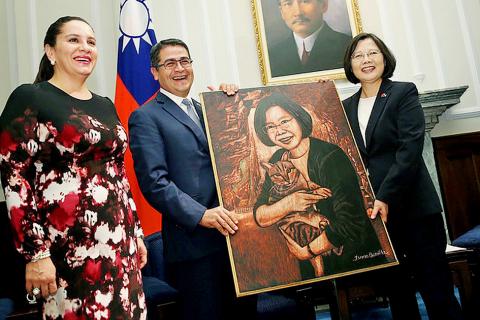 President Tsai Ing-wen, right, exchanges gifts with Honduran President Juan Orlando Hernandez, center, at the Presidential Office on Oct. 3 last year.
Photo courtesy of the Presidential Office
Tsai then requested a change to the itinerary of her visit to Central America to include Honduras, sources said.
Sierra said the Honduran people are looking forward to Tsai's visit, dismissed rumors that diplomatic ties are unsteady and described himself as "Taiwan-loving."
The Honduran ambassador is to accompany Tsai during her visit and tour the country with four Taiwanese corporations from different fields to seek commercial opportunities.
"The whole month will be the Taiwan month," he said, adding that he would not be back in Taiwan until the end of this month.
However, Sierra said that Chinese influence has been increasing in Central and South America.
Saying that the Honduran president is Taiwan-friendly, Sierra stressed that the bilateral relationship does not depend only on high-level exchanges, but further development is needed, as Hernandez must have "bargaining chips" to sway Honduras' pro-China politicians.
Taiwan is now promoting its new southbound policy, but Taiwan's Central and South American allies could also be areas where Taipei concentrates development, the ambassador said, adding that the idea is not his alone, but shared by other Central and South American ambassadors to Taiwan.
He called for more investment from Taiwanese businesses, saying that there are only 10 Taiwanese firms putting money into Honduras.
Honduras is not asking for help or hoping to engage in so-called "checkbook diplomacy," but aiming for person-to-person exchanges and to build a strong foundation for friendship in the private and civic sectors, Sierra said.
For example, if 500 companies hired 500 people — and if each employee supports a family of four — that would mean that at least 100,000 people would take to the streets if the Honduran political elite showed an intention to switch diplomatic allegiance, the ambassador said, adding that this is what he means by a "strong relationship."
He said that Honduras, connecting the Pacific, the Atlantic, and Taiwan, the center of Asia, could be each other's doors to greater markets.
Since 2015, when he first assumed the post as ambassador to Taiwan, Sierra has led more than 30 Taiwanese enterprises to visit Honduras and been proactive in promoting business cooperation.
He believes that commercial exchanges between the two countries in industries such as coffee, shoe making, agriculture, seafood, beef, mining and tourism are viable.
"The two countries long ago signed a free-trade agreement, and Taiwanese companies, with factories built in Honduras, would benefit from the free-trade agreements signed between Honduras and other countries such as the US, Canada, Mexico and other Central and South American countries," Sierra said.
Comments will be moderated. Keep comments relevant to the article. Remarks containing abusive and obscene language, personal attacks of any kind or promotion will be removed and the user banned. Final decision will be at the discretion of the Taipei Times.