Executive Yuan declares Freedom of Expression Day
The Executive Yuan yesterday announced that April 7 would be Freedom of Expression Day to commemorate the death of democracy activist Deng Nan-jung (鄭南榕), who died on April 7, 1989.
Premier Lin Chuan (林全) said that the democracy and freedom that Taiwanese enjoy is the result of past civil rights movements, and Deng paved the way for reform as his actions aroused public awareness of the importance of freedom of speech.
On April 7, 1989, Deng, then editor-in-chief of Freedom Era Weekly, set himself on fire as police attempted to break into his office after he had been barricaded inside for 71 days to avoid arrest after he was charged with sedition for the anti-government views expressed in his magazine, which published a draft "Republic of Taiwan constitution" in 1988.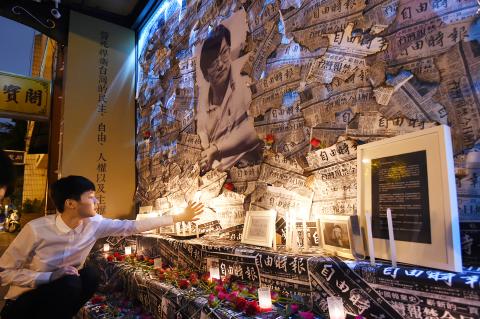 A man pays his respects to democracy activist Deng Nan-jung at an event to commemorate Deng at the Shih Ming-te Foundation in Taipei on April 7 last year.
Photo: Chang Chia-ming, Taipei Times
At the time, Article 100 of the Criminal Code banned the advocacy of replacing the Republic of China Constitution to mark the founding of a new nation, with those convicted liable to be sent to prison for life.
The article was amended in 1992, making it punishable only when such advocacy involves the use of violence.
President Tsai Ing-wen (蔡英文), when attending a ceremony to commemorate the 27th anniversary of Deng's death in New Taipei City's Jinshan District (金山) this year, said her administration would make the day Freedom of Expression Day to commemorate the activist, which had been one of Tsai's election campaign pledges.
The designation and celebration of Freedom of Expression Day is to familiarize the public with the meaning of the freedom of speech, Executive Yuan spokesman Hsu Kuo-yung (徐國勇) quoted the premier as saying.
Government agencies, including the Ministry of Education and the Ministry of Culture, have been asked to organize celebratory events and commemorative programs to deepen public awareness of democracy, Hsu said.
Additional reporting by CNA
Comments will be moderated. Keep comments relevant to the article. Remarks containing abusive and obscene language, personal attacks of any kind or promotion will be removed and the user banned. Final decision will be at the discretion of the Taipei Times.