Trump's 'basic philosophy' needs to be understood
BENEFICIARY: Donald Trump made his fortune thanks to Reaganomics, which favored deregulation, 'Investment Media and Wealth Magazine' chairman Hsieh Chin-ho said
A commentator urged Taiwanese to understand the basic philosophy of US president-elect Donald Trump, saying billionaire real-estate mogul benefited from then-US president Ronald Reagan's economic policy in the 1980s and became a believer in "Reaganomics."
Investment Media and Wealth Magazine chairman Hsieh Chin-ho (謝金河) spoke about his view on why Trump took a telephone call from President Tsai Ing-wen (蔡英文) on Friday last week and the effects the 10-minute call could have.
China was initially relieved — and even happy — that Trump won the US presidential election, believing he would be "easier to deal with" than former US secretary of state Hillary Rodham Clinton, Hsieh said on Facebook on Sunday.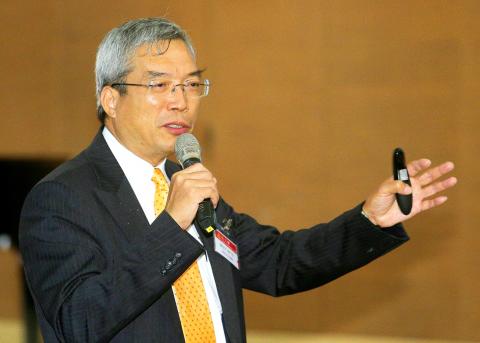 Investment Media and Wealth Magazine chairman Hsieh Chin-ho speaks at a seminar in Taipei on May 18.
Photo: CNA
However, Beijing remains highly uncertain as to what Trump's policies will be, he said.
To better understand Trump as he heads to the White House, Hsieh said that much can be learned from recalling that in 1980 the US was reeling from the aftermath of the Vietnam War and "stagflation," resulting in a basic interest rate of 20 percent.
When then-Republican candidate Reagan hit the campaign trail, his slogan of "Let's make America great again" resonated well with voters, Hsieh said, adding that then-US president Jimmy Carter sustained a resounding defeat at the polls.
After taking office, Reagan immediately cut taxes, increased government spending and undertook wide-reaching deregulation to free up the economy, helping the US weather the downturn of 1981-1982, said Hsieh, who also hosts a TV program on finance and economy.
It was Reagan's tough defense policy, boosted by an uptick in military spending, that forced then-superpower Soviet Union to back down and laid the groundwork for the fall of the Berlin Wall and the Soviet collapse in 1989 and 1991 respectively.
Reagan's two-term presidency ended in 1988.
Trump has modeled his economic policy on Reagan's — from his main slogan to tax cuts, deregulation and boosting infrastructure spending, Hsieh said, adding that Trump made his fortune in the 1980s through real-estate investments, making him a beneficiary of Reaganomics.
Reaganomics prevailed during the Cold War and now Trump is trying to "make America great again" before China surges ahead economically to become a superpower, he said, adding that world affairs will be dominated by that contest over the next 10 years.
In the face of rapid and huge changes, nations are seeking to be strong economically and if Taiwan continues to allow the pursuit of "justice and fairness" to blunt its economic competitiveness, "it might not have a future."
Hsieh's comments drew some criticism from netizens, with one asking: "What's wrong with seeking social justice and fairness?"
"Does our current economic system, which features an unfair tax system — placing too heavy a burden on the salaried class — not favor the capitalists enough?" the netizen said.
Comments will be moderated. Keep comments relevant to the article. Remarks containing abusive and obscene language, personal attacks of any kind or promotion will be removed and the user banned. Final decision will be at the discretion of the Taipei Times.