Tsai details plans to boost nation through medicine
VITAL: The president said Taiwan's advanced healthcare capabilities and experience in providing aid make it a critical piece of the global disease control 'jigsaw puzzle'
President Tsai Ing-wen (蔡英文) yesterday announced plans to boost the nation's international profile by increasing cooperation with the international community in the areas of disease control and medical aid, while encouraging students from Southeast Asian countries to receive medical training in Taiwan.
Tsai made the remarks in her speech at the two-day Global Health Forum in Taiwan, which has been jointly organized annually by the Ministry of Foreign Affairs and the Ministry of Health and Welfare since 2005 with the stated aim of increasing the nation's international profile through its advances in medicine and public health.
Referring to the theme of this year's forum, "Toward 2030," Tsai laid out several goals for the nation, one of which is to step up its international cooperation.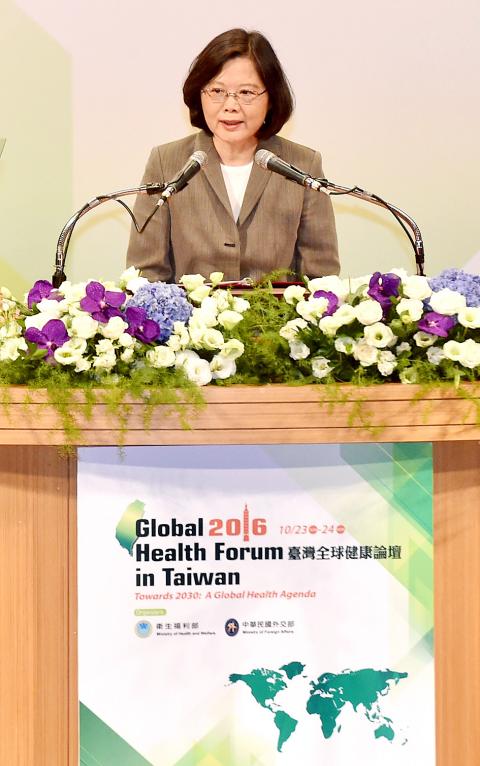 President Tsai Ing-wen delivers a speech at the 2016 Global Health Forum in Taiwan, which was held in Taipei yesterday.
Photo: Chien Jung-fong, Taipei Times
"One can imagine that, in the world of 2030, there will be a lot more cross-border movement of people and goods. This means that communicable diseases will represent a bigger challenge. Accordingly, all nations bear a joint responsibility to share information and work hand-in-hand to fight against new types of communicable diseases," she said.
Tsai said that as Taiwan has advanced healthcare capabilities and abundant experience in providing medical aid, the exclusion of the nation from the global health system would cause the "jigsaw puzzle" of worldwide disease control to miss a vital piece.
Taiwan is willing and able to make meaningful contributions to global healthcare and hopes to help other nations train health professionals, Tsai said.
"We encourage students from ASEAN and South Asia to come and receive medical training in Taiwan. This is one of the focal points of our 'new southbound policy,'" Tsai said.
Tsai said her administration also intends to make Taiwan's healthcare resources available to non-governmental organizations, in order to increase the nation's presence in international humanitarian aid.
"Taiwan is ready. We strongly hope that all of you will support Taiwan's participation in various international organizations," Tsai said.
On the local front, Tsai said that as Taiwan is heading toward becoming a "super-aged" society, the government is working to integrate public and private resources and plans to launch the nation's second 10-year long-term care plan, which aims at creating a comprehensive long-term care system that is accessible and affordable.
The president also pledged to build a more equitable national health system, achieve more efficient use of healthcare resources and improve care in distant areas and hospitals' capabilities for patient referrals across administrative boundaries.
Comments will be moderated. Keep comments relevant to the article. Remarks containing abusive and obscene language, personal attacks of any kind or promotion will be removed and the user banned. Final decision will be at the discretion of the Taipei Times.